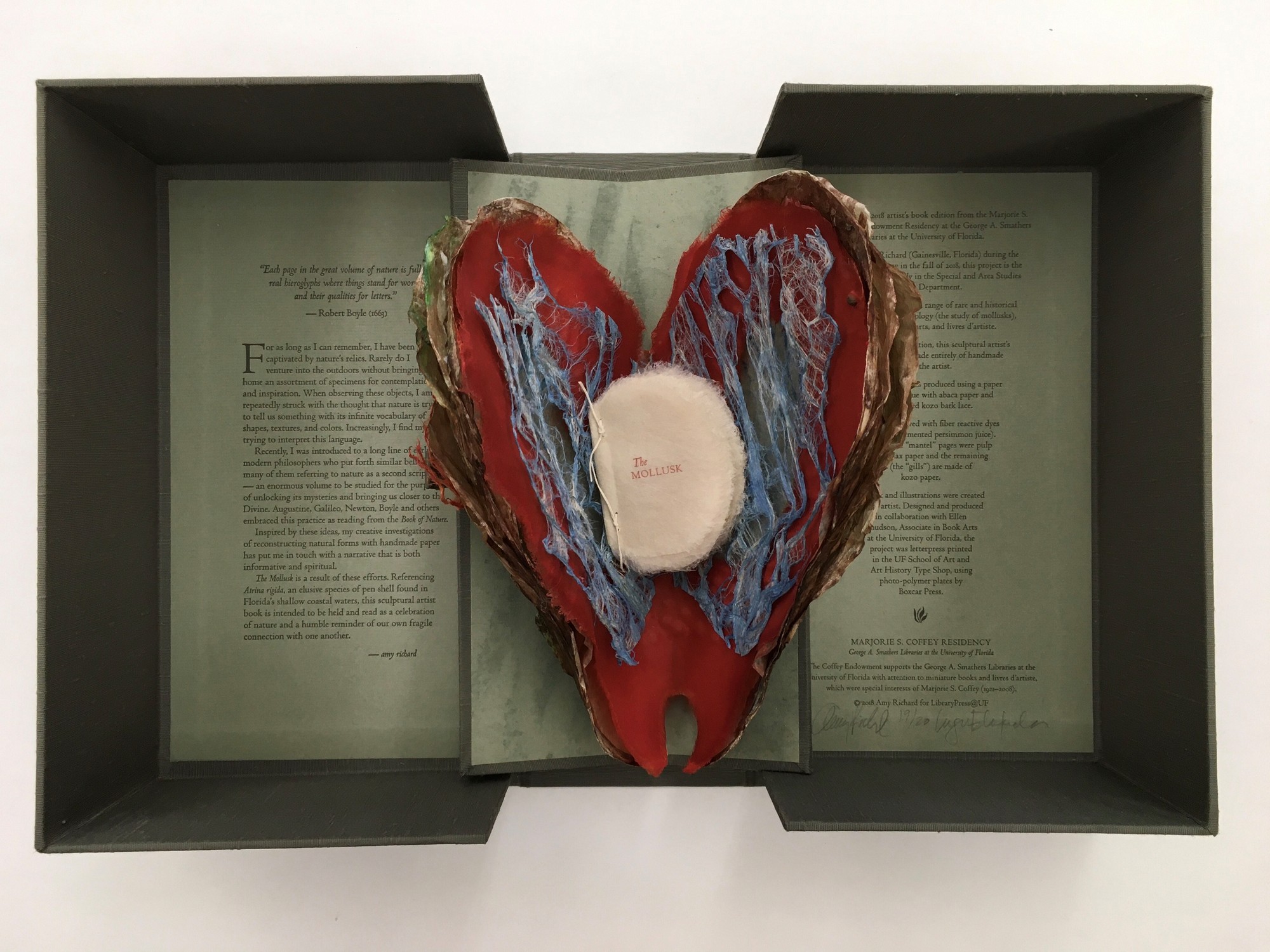 The Mollusk
Information About This Item
Creator
Richard, Amy Koski, 1962-
Publisher
Library Press@UF
Description
Referencing Atrina rigida, an elusive species of pen shell found in Florida's shallow coastal waters, this sculptural artist book is intended to be held and read as a celebration of nature and a humble reminder of our own fragile connection with one another.--Artist's statement printed inside box.
Title from spine label of box.
Edition of 20 copies, signed and numbered by artist and collaborator, Ellen Knudson.
The Mollusk is the 2018 artist's book edition from the Marjorie S. Coffey Library Endowment Residency at the George A. Smathers Libraries at the University of Florida. The book was created by Amy Richard during the semester-long residency in the fall of 2018. This project is the result of research and study in the Harold and Mary Jean Hanson Rare Book Collection in the Special and Area Studies Collections Department. Inspiration was found from a range of rare and historical books about Florida malacology (the study of mollusks), nature, poetry, book arts and livres d'artiste.--Colophon.
Produced as a variable edition, this sculptural artist's book is designed and made entirely of handmade paper by the artist. The shell serves as a "cover" and was produced using a paper lamination technique with abaca paper and hand processed kozo bark lace. Inside the shell between the layers of translucent "mantel" pages, pulp printed on flax paper, are the "gills", made of kozo paper.--Colophon.
Letterpress printed in the UF School of Art and Art History Type Shop and produced in collaboration with Ellen Knudson, Associate in Book Arts at the University of Florida. Photo-polymer plates by Boxcar Press.
The shell is housed in a clamshell box covered in sage green linen with letterpress printed spine label and color illustration on lid.
MU copy is number 19 of 20.
MU copy accompanied by letter from artist, handling instructions, July 2019 issue of Hand papermaking newsletter, photocopied feature on University of Florida book arts from the January 2019 Caxtonian, 2 sheets of color photographs of the piece, and text of poem.
Identifier
Rare-L N7433.4.R53 M65 2018
OCLC/WorldCat Number: 1101911377
Subject
Mollusks.
Nature in art.
Artists' books -- Florida -- Specimens.
Miniature books -- Specimens.
Paper sculpture -- Specimens.
Letterpress printing -- Specimens.
Contributor
Knudson, Ellen
Boxcar Press (platemaker)
Format
1 art object, 1 volume (20 unnumbered pages) : color ; 25 x 15 cm and 8 x 6 cm, in box (28 x 16 x 4 cm)
Collection
No Collection
Tags