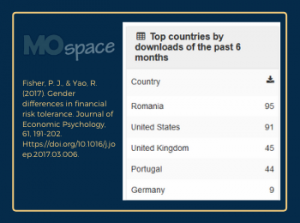 Open access refers to the free access of online resources and is of particular importance when those resources are research articles, papers and publications. Open access makes these resources available to more people in more places. The University of Missouri Libraries support the goals of open access for MU research materials though the provision of MOspace, the MU institutional repository. MOspace is an online repository for creative and scholarly works created by MU faculty, students, staff, and departments.
What difference does open access make? Materials freely available on the web often reach a wider audience than those available in high-cost journals. For example, a postprint of the following article was added to MOspace in 2018.
Fisher, P. J., & Yao, R. (2017). Gender differences in financial risk tolerance. Journal of Economic Psychology, 61, 191-202. https://doi.org/10.1016/j.joep.2017.03.006
Postprint in MOspace: https://hdl.handle.net/10355/62875
In the past six months, the postprint in MOspace was downloaded 350 times by users in the United States, Romania, the United Kingdom, Portugal and Germany. The top ten countries for all MU material downloaded from MOspace in the past six months are:
United States;
Germany;
Philippines;
United Kingdom;
China;
India;
Canada;
Indonesia;
France; and
Australia.
Additional countries in Europe, Africa, Asia, Latin America and the Middle East are reflected in the top 40 countries with MOspace users. Most of these users were referred from internet browsers or search engines including Google, Google Scholar, DuckDuckGo, Bing and Yahoo.
| | |
| --- | --- |
| Open access supports the efforts of MU researchers by making their research more widely available and supports scholars around the world by ensuring free and open access to important research. To find out more: | |