Photos by Notley Hawkins are now in display in the Bookmark Cafe. Subjects include our very own Columbia, Missouri, as well as rural scenes and natural vistas.
Notley Hawkins has lived in Missouri his whole life. Born and raised in Columbia, he studied painting and drawing at Columbia College with Sid Larson, a student of Thomas Hart Benton. He attended the University of Missouri in Columbia for his Master's degree where he worked with noted artist and cartoonist Frank Stack (Foolbert Sturgeon). Notley did additional studies at the prestigious Skowhegan School in Maine.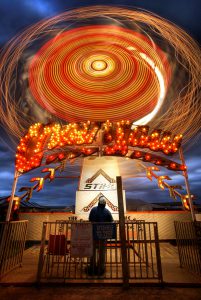 He has held residencies at the Vermont Studio Center and the Ucross Foundation, and his work is in the collections of the State Historical Society of Missouri and the Ashby-Hodge Gallery of American Art, as well as many private collections. Notley he took up photography in 2005 after growing disinterested in painting and is now a full-time fine art photographer specializing in rural and bucolic images.