Cycle of Success is the idea that libraries, faculty, and students are linked; for one to truly succeed, we must all succeed. The path to success is formed by the connections between University of Missouri Libraries and faculty members, between faculty members and students, and between students and the libraries that serve them. More than just success, this is also a connection of mutual respect, support, and commitment to forward-thinking research.
Judith Goodman, the Interim Associate Dean of Research for the School of Health Professions, and Gina Scavone, Executive Assistant to the Associate Deans, contacted the Health Sciences Library for help with gathering journal, article, and author metrics for all School of Health Professions faculty. They wanted a better idea of what and where their faculty were publishing, and the impact of their research. Gina Scavone had previously asked for help in Summer 2016 when she was asked to find this same information, but wasn't sure where to start. Taira Meadowcroft sat down with Gina to show her how she gathered this information, and throughout the summer, Taira, along with Rachel Alexander and Gemille Purnell, gathered the required metrics. Fast forward to Spring 2017, when the School of Health Professions asked for updated metrics, on a short deadline, for their newly added faculty. The Department of Public Health merged with the School of Health Professions, and this merger added a few new faculty members.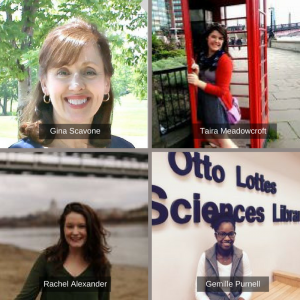 "We needed to have the most up-to-date data concerning our faculty's research profiles with a ridiculously quick turn-around for a presentation. We asked Taira Meadowcroft to find both the WOS and Scopus annual and cumulative number of publications and citations, the h-index, and journal impact factors for each tenured/tenure-track faculty member in the School of Health Professions. She did this efficiently and cheerfully! This partnership of MU Libraries and SHP enabled us to quickly pull together a presentation of SHP's research growth for UM's new president. We were so grateful for Taira [and the library's] help in letting us tell our story."
If you would like to submit your own success story about how the libraries have helped your research and/or work, please use the Cycle of Success form.