To finish out October, here's an extra special Halloween edition of Fantastic Beasts and Where to Find Them in Special Collections. Today's featured beast is the demon, which is usually defined as an evil spirit or fiend. Nearly every religion has a form of demons that populate whatever version of Hell that particular religion believes in, often trying to influence the people of our world into committing evil acts and causing general chaos. Mephistopheles (pictured above) is one of the more well-known demons and is the one that Faust sells his soul to in the legend of Faustus, recorded most famously by Goethe.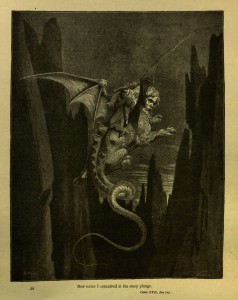 In other classic literature, this edition of Dante's Inferno illustrated by Gustave Dore beautifully shows some of the residents of Hell that Dante and Virgil encounter on their journey through the nine circles of Hell.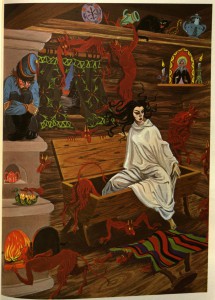 This image depicts a scene from the Russian folk tale The Soldier's Midnight Watch, in which a soldier hides on top of the stove while an undead witch summons a crowd of small demons to search him out.
In more modern media, demons have taken on other roles as well, such as in the comic Fray by Joss Whedon, in which the demon Urkonn plays trainer to a futuristic vampire slayer named Melaka Fray.
A more light-hearted take on a demon occurs in The Demon of the Eiffel Tower, an English translation of a French comic in which Adele Blanc-Sec solves mysteries and has grand adventures in a fantasy version of the 1900s. (Spoiler Alert: in true Scooby-Doo style, the demon is eventually revealed to be a woman with a nefarious plot in a costume.)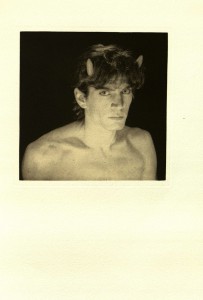 Switching from comics to poetry, the above image is from Arthur Rimbaud's collection of poems entitled A Season in Hell. With several photographs like this by Robert Mapplethorpe, this edition of Rimbaud's poetry certainly takes an added turn for the creepy.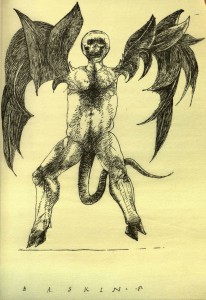 Speaking of creepy, these terrifying creatures are from Leonard Baskin's work Demons, Imps, and Fiends. The rest of the book is filled with drawings of demons you definitely wouldn't want to meet on the street at night, much less enter into any form of agreement with.
Happy Halloween everyone! If you need help getting into the spirit of the holiday, come see us in Special Collections. Our stacks are haunted by books with all kinds of creatures guaranteed to help.