International Open Access Week was October 24-30! This year's theme, Open For Climate Justice, seeks to encourage connection and collaboration among the climate movement and the international open community. Sharing knowledge is a human right, and tackling the climate crisis requires the rapid exchange of knowledge across geographic, economic, and disciplinary boundaries.
So far this year, MU authors published 1,017 open-access articles. These articles have already been cited 826 times; sixteen of which have been listed as Web of Science highly cited papers.
Drs. Qureshi, Baskett, Huang, Lobanova, Navqu and Shyu recently published an open-access article in Clinical Infectious Disease looking at reinfection from SARS-CoV-2. The article has performed well in altmetrics and in Web of Science metrics. Read the article here.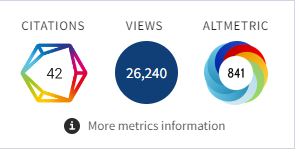 Thank you to all of our MU authors who chose to publish open access.
Adnan I Qureshi, William I Baskett, Wei Huang, Iryna Lobanova, S Hasan Naqvi, Chi-Ren Shyu, Reinfection With Severe Acute Respiratory Syndrome Coronavirus 2 (SARS-CoV-2) in Patients Undergoing Serial Laboratory Testing, Clinical Infectious Diseases, Volume 74, Issue 2, 15 January 2022, Pages 294–300, https://doi.org/10.1093/cid/ciab345