The Health Sciences Library recently gathered statistics to report to the Association of Academic Health Sciences Libraries (AAHSL).
This association is comprised of the libraries serving the accredited U.S. and Canadian medical schools belonging to or affiliated with the Association of American Medical Colleges (AAMC).
As was the case in previous surveys, our collections budget lags behind our peer libraries by over a half a million dollars. Our aspirational peers* have about 4 times more money to spend on collections than we do.
This will make it even more challenging to meet our targets for the current campus wide collections cut of  $1.2 million.
We are using a data driven approach to keep the journals you value the most. Send your journal feedback or specific questions about titles to asklibrary@health.missouri.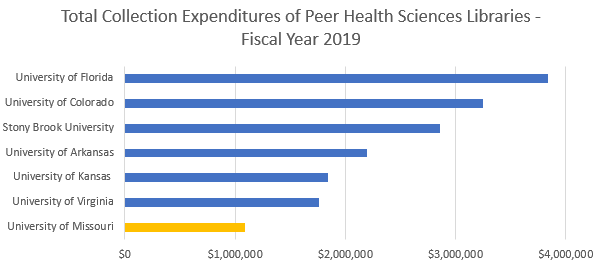 *Our aspirational peers are University of Florida and SUNY Story Brook