Open Access week is an important week. A week dedicated to highlighting the importance of Open Access and advocating for free, and immediate online access to scholarly research. This year's theme, "Open in Action," is all about taking concrete steps to open up research and scholarship and encouraging others to do the same. This was the purpose in creating an open access blog; a way to share research MU faculty choose to publish open access.
Every few weeks, I post about an open access article, right here on our library news page. When typing up the post, I focus on the research itself, the academic accomplishments of the faculty, and the most important, the reasons why they chose to publish in open access. I've received several insightul thoughts on why they think open access is important, and to my great delight, all look fantastic as graphics. 😉 Marketing material aside, they are profound thoughts that I hope will strike a chord with other MU faculty, and scholars outside the university, further engaging others and promoting the open access initiative.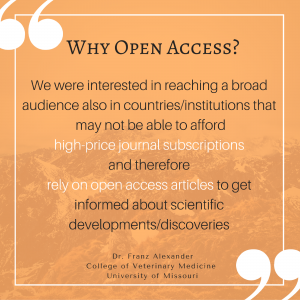 October 22nd-October 24th, I presented a poster at Merge&Converge'16, the 2016 Mid-Continent Medical Library Association conference. I wanted to show others that promoting open access, and engaging faculty is easier than we think. Faculty can be open access champions.