We've bought a lot of new books lately at the Health Sciences Library. Below are a few of our favorite additions.
Find the complete list of this month's new books here. You can use the drop down menu to see previous month's additions.
Have a purchase recommendation? You can request a book for your teaching or research using this form.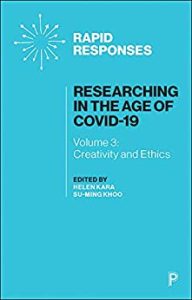 Researching in the age of COVID-19. Volume III, Creativity and ethics / edited by Helen Kara and Su-Ming Khoo.
As researchers continue to adapt, conduct and design their research in the presence of COVID-19, new opportunities to connect research creativity and ethics have opened up. Researchers around the world have responded in diverse, thoughtful and creative ways -adapting data collection methods, fostering researcher and community resilience, and exploring creative research methods. This book, part of a series of three Rapid Responses, explores dimensions of creativity and ethics, highlighting their connectedness. It has three parts: the first covers creative approaches to researching. The second considers concerns around research ethics and ethics more generally, and the final part addresses different ways of approaching creativity and ethics through collaboration and co-creation. The other two books focus on Response and Reassessment, and Care and Resilience. Together they help academic, applied and practitioner-researchers worldwide adapt to the new challenges COVID-19 brings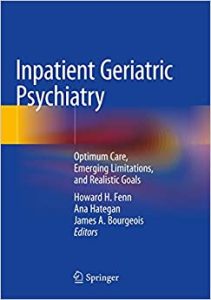 Inpatient geriatric psychiatry : optimum care, emerging limitations, and realistic goals / Howard H. Fenn, Ana Hategan, James A. Bourgeois, editors.
This book offers mental health guidelines for all medical professionals facing the emerging challenges presented by an aging population worldwide. The text acknowledges that as the geriatric demographic grows, limited resources and infrastructures demand quality protocols to deliver inpatient geriatric psychiatric care, and that many physicians may not be trained to address these specific needs. This text fills this gap with guidelines assessing, diagnosing, and treating aging patients as they present in the emergency room and other settings. Unlike any other text, this book focuses on how to optimize the use of the inpatient setting by recommending evaluations and treatments, and offering flow-charts and figures of key points, to guide both general workup and continued evaluation and treatment. This approach aims to minimize instances of premature release or readmissions and to improve outcomes. Chapters cover the various issues that clinicians face when working with an older patient, including legal topics, limitations to treatment, prescription-related complications, patients struggling with substance abuse, and various behavioral concerns. Written by experts in the field, the text takes a multidisciplinary approach to deliver high-quality care as needs of the aging population evolve. Inpatient Geriatric Psychiatry is a vital resource for all clinicians working with an aging population, including geriatricians, psychiatrists, neurologists, primary care providers, hospitalists, psychologists, neuropsychologists, emergency room and geriatric nurses, social workers, and trainees.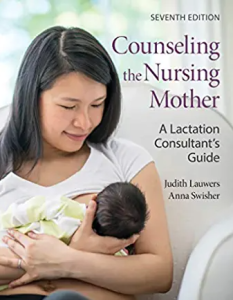 Counseling the nursing mother : a lactation consultant's guide / Judith Lauwers, Anna Swisher.
Counseling the Nursing Mother: A Lactation Consultant's Guide, Seventh Edition presents topics within a counseling framework with practical suggestions and evidence-based information interwoven throughout. Additionally, the Seventh Edition is an ideal study guide for International Board Certified Lactation Consultant (IBCLC) certification and practice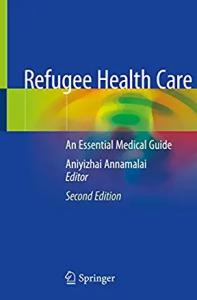 Refugee health care : an essential medical guide / Aniyizhai Annamalai, editor
Refugee health is growing as an academic medical discipline. More and more health care providers are coming together to exchange research information, educational curricula and social policies related to refugee health. The number of practitioners attending the annual North American Refugee Healthcare Conference has doubled since 2014. Refugees arrive in the United States from different parts of the world. Refugees undergo a medical screening soon after arrival, as recommended by the U.S. Department of State, and it is usually primary care practitioners who usually evaluate these patients at this first visit. Psychiatrists and other specialists may also evaluate them soon after arrival.Though physicians receive a variable amount of training in cross-cultural medicine, virtually none is in the area of refugee evaluations. There are several major ways that the field has changed. U.S. refugee policies and refugee admission numbers have changed dramatically in the past four years as has the epidemiology of medical conditions because the demographics of refugees have changed. The CDC guidelines for domestic screening have also been modified significantly as some of the screening tests are no longer recommended. Protocols have also been updated for presumptive treatment received by refugees before departure to the United States of other countries. A new chapter on end of life care for refugees has been added to the book. Now fully revised and expanded, this second edition reflects the many changes that have occurred in the field of refugee health since 2014. Refugee Health Care remains the definitive resource for primary care physicians and mental health practitioners who see and evaluate refugees. It is also relevant for medical, nursing and public health students involved with refugee health as well as resettlement agency workers and public health officials overseeing refugee care
Well : what we need to talk about when we talk about health / Sandro Galea
Physician Sandro Galea examines what Americans miss when they fixate on healthcare: health. Americans spend more money on health than people anywhere else in the world. And what do they get for it? Statistically, not much. Americans today live shorter, less healthy lives than citizens of other rich countries, and these trends show no signs of letting up. The problem, Sandro Galea argues, is that Americans focus on the wrong things when they think about health. Our national understanding of what constitutes "being well" is centered on medicine — the lifestyles we adopt to stay healthy, the insurance plans and prescriptions we fall back on when we're not. And while all these things are important, they've not proven to be the difference between healthy and unhealthy on the large scale. Well is a radical examination of the subtle and not-so-subtle factors that determine who gets to be healthy in America. Galea shows how the country's failing health is a product of American history and character — and how refocusing on our national health can usher enlightenment across American life and politics