Debbie Parker, instructor at the Center for English Language Learning, pinpoints a key challenge for international students: "Avoiding plagiarism is a daunting task for all students, but it is complicated by the fact that international students have different ideas about what is expected when using support in papers or presentations."
A major assessment of the Intensive English Program's students' mastery of academic English is a formal speech using PowerPoint. This speech must incorporate research and requires students to produce a bibliography. Debbie took her colleague Mary Browning's advice and contacted Cindy Cotner, the librarian for international students, to set up an instruction session about avoiding plagiarism.
Cindy immediately thought of LibWIS, a series of library workshops for international students. Two of Ellis Library's Graduate Reference Assistants, Haley Gillilan and Victoria Knight, had recently taught a workshop on just this topic. Planning and teaching workshops is just part of the professional-level training and experience Haley and Victoria receive as GRAs while they complete their degrees in library science. They also provide research assistance in person at the Research Help and Information Desk as well as online through our chat service and assist librarians with other projects.
Cindy suggested that Haley and Victoria teach the session since they had already prepared a lesson on plagiarism specifically for international students. She says, "I am grateful that Debbie granted permission for our graduate students to teach in her classroom. Her students were engaged and asked good questions, and I think this activity was a learning experience for all!"
The instruction session went beyond a dry summary of "how to cite sources in academic classes without plagiarizing." As part of Haley and Victoria's presentation, they assessed students' understanding using example citations. Debbie explains, "They asked the students to guess which ones were correct. If it wasn't acceptable, the students needed to explain what was wrong with it."
Learning about plagiarism and potential consequences from current students beholden to the same university standards of academic integrity helped reinforce the message in a unique way. Debbie says, "It also made it easier for me to reinforce the importance of citing their sources because I could refer back to the visit and remind them about the presentation that they heard."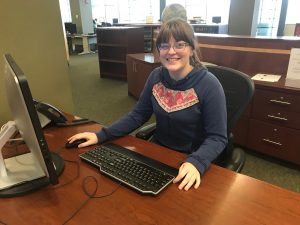 Victoria and Haley benefited from the opportunity to modify a workshop they'd taught before for use in an individual classroom. Victoria says, "Plagiarism is such a big topic and can differ so greatly from country to country. It was an amazing opportunity to get to take one of our library sessions out into the actual classroom. I think it was really beneficial, and it was a fun class to teach." Haley sums it up well: "I hope that the class helped them with their academic success at Mizzou!"
Debbie wants all students, especially international students, to know that "the library offers so much more than just books." A former student worker in Ellis Library, she says, "Librarians are an under-tapped resource which can save faculty, staff and students time and energy. The resources and the workshops can make the students' learning experience much fuller."
Cycle of Success is the idea that libraries, faculty, and students are linked; for one to truly succeed, we must all succeed. The path to success is formed by the connections between University of Missouri Libraries and faculty members, between faculty members and students, and between students and the libraries that serve them. More than just success, this is also a connection of mutual respect, support, and commitment to forward-thinking research.
If you would like to submit your own success story about how the libraries have helped your research and/or work, please use the Cycle of Success form.