The Routledge Handbook of Landscape and Food, to be published in 2018, features the chapter "Using the Senses to Write Food Culture and Landscape" by MU's own Nina Mukerjee Furstenau. As Director of Food Systems Communication and Instructor in Science and Agricultural Journalism, Nina has relied on Noel Kopriva, whom she calls "a jewel in the crown of subject librarians," for research help many times.
When Nina found herself in need of "research materials on using sensory writing in food and landscape storytelling and how that type of writing effects communication across cultural borders," she searched on her own but found that her searches were not producing results relating to her particular angle on the topics. That's when she asked Noel to step in.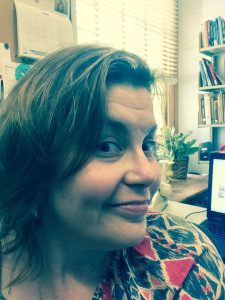 Nina admits that she, of course, needed the information "pronto" and was out of the state at the time. She says Noel "not only had good ideas on how to approach the topic, she pointed out specific references and was able to walk me through how to get far-flung sources winging their way to Columbia. She made the entire experience manageable, accessible, and pleasant. Tip of the hat to Noel!"
Noel says, "It was a delight working with someone like Nina, who combines so many disciplines in her writing—makes it really fun to help her do research. She is an amazing patron and person, and I am grateful to have been able to help!"
"Make use of all the offerings at the library—databases, journals, statistics, and more," Nina advises, but especially "the people there—the librarians—devoted to the exploration of knowledge and how to access it." She says of Noel, "My personal opinion is that she performs magic."
Cycle of Success is the idea that libraries, faculty, and students are linked; for one to truly succeed, we must all succeed. The path to success is formed by the connections between University of Missouri Libraries and faculty members, between faculty members and students, and between students and the libraries that serve them. More than just success, this is also a connection of mutual respect, support, and commitment to forward-thinking research.
If you would like to submit your own success story about how the libraries have helped your research and/or work, please use the Cycle of Success form.