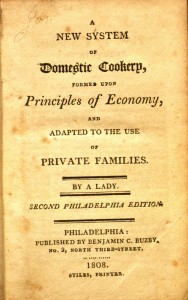 Maria Eliza Rundell (1745–1828) didn't set out to be a domestic goddess. The widow of a surgeon, she collected recipes and household hints for her three married daughters. John Murray, a prominent publisher, happened to be a family friend, and Rundell gave him her recipe collection as a favor, expecting no financial reimbursement.
Murray published Rundell's work in 1806 as A New System of Domestic Cookery, and Rundell became a housekeeping superstar, supplanted only by Mrs. Beeton in the 1860s. The book was an immediate success, especially in the United States, and went through over 65 editions in the next thirty years. Rundell focused on budget cooking and household management. Her recipes included dishes such as eel pie and calves' foot broth, as well as more standard fare. This week's recipe is an early example of Anglo-Indian cuisine, fostered by British contact with India through colonization and trade.
Chicken Curry

From A New System of Domestic Cookery
Cut up the chickens before they are dressed, and fry them in butter, with sliced onions, till of a fine colour : or if you use those that have been dressed, do not fry them : lay the joints, cut in two or three pieces each into a stewpan, with veal or mutton gravy, a clove or two of garlick, four large spoonfuls of cream, and some Cayenne : rub smooth one or two spoonfuls of curry powder, with a little flour, and a bit of butter, and add twenty minutes before you serve ; stewing it on till ready. A little juice of lemon should be squeezed in when serving.
Slices of rare done veal, rabbit or turkey, make a good curry.
A dish of rice boiled plain, as hereafter directed, must be always served to eat with curry.
See the full text at the Hathi Trust
Don't miss Food Sense, the 2012 Life Sciences and Society Symposium, March 16-18. SCARaB is participating with an exhibition of books on science and nutrition, now open in the Ellis Library Colonnade.