In conjunction with the 2017 Life Sciences and Society Symposium, librarian Timothy Perry has curated an exhibition of materials from Special Collections on the art and science of love. Love has many faces. Traditionally depicted in art as a rosy-cheeked boy with blond curls, love appears throughout Western literary history in various guises, sometimes violent, sometimes playful, sometimes mysterious, sometimes beneficent. To Hesiod, Eros – the Greek for love — was one of the oldest, and certainly the fairest, of the gods. To Empedocles, Eros was a primal force, battling with Eris (Strife) for mastery of the cosmos. To Lucretius, love was like a festering wound. In the Middle Ages, Dante described God as "the love that moves the sun and the other stars". But love had also become a courtly ideal, closely associated with concepts of nobility and chivalry. Wherever love appears, though, and in whatever form, it is always as a powerful force in human life and the universe as a whole. As Virgil says, omnia vincit amor – love conquers all.
Omnia Vincit Amor: The Art and Science of Love presents the many faces of love as they appear in the literature of antiquity, the Middle Ages, and the Renaissance. It covers both the theories of love found in philosophy and science, from Plato to Judah Leon Abravanel, and more literary accounts of love, including Terence, Ovid, and the Roman de la Rose.
In a related exhibition, University Archives has brought together items from its collection to tell the story of Scandalous Questions – Questions of Scandal: The University of Missouri and the 1929 Sex Questionnaire.  In 1929, a student project for a sociology class at the University of Missouri created an uproar that echoed throughout Columbia and across Missouri. The "sex questionnaire" as it came to be known was intended to gather data regarding the sociological significance of the changing economic status of women on family life. Its inclusion of three questions pertaining to extramarital sexual relations, however, led to the dismissal of one faculty member, a year-long suspension of another, the ouster of the University President, and the involvement of the American Association of University Professors.
Both exhibitions will be on view in the Ellis Library Colonnade until October 30.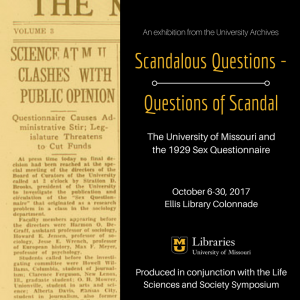 Save