Cycle of Success is the idea that libraries, faculty, and students are linked; for one to truly succeed, we must all succeed. The path to success is formed by the connections between University of Missouri Libraries and faculty members, between faculty members and students, and between students and the libraries that serve them. More than just success, this is also a connection of mutual respect, support, and commitment to forward-thinking research.
Although the Cycle of Success typically focuses on the relationships among the Libraries, faculty, and students, the Libraries also contribute to the success of all the communities Mizzou serves. The Libraries are an integral part of Mizzou's land-grant mission "to provide all Missourians the benefits of a world-class research university."
Finding Family History on a Visit to the Vet
In June 2017, Kellie Green stopped into the Zalk Veterinary Medical Library after having been at the Veterinary Health Center with her mom and her mom's dog Stella. Kellie wondered if the library could help her find out any information about her great grandfather, R.B. Moody. She knew that he had been on the College of Veterinary Medicine (CVM) faculty, but wasn't sure exactly when. She also knew that he graduated from Kansas State in 1943.
With that information, Kate Anderson, Head of Zalk Library, and Sue Giger, Library Information Assistant, went to work. One of the best sources of CVM history is the digitized collection of Veterinary Medical Review, the College's newsletter published from 1967 to 2007. Because this MOspace collection is full-text searchable, they could quickly pinpoint articles of interest and send them to Kellie.
They found that R.B. Moody served on the Mizzou faculty from 1948-1951 and went on to work for the USDA's Missouri office. As an added bonus, they found that Kansas State had digitized its collection of graduation composites!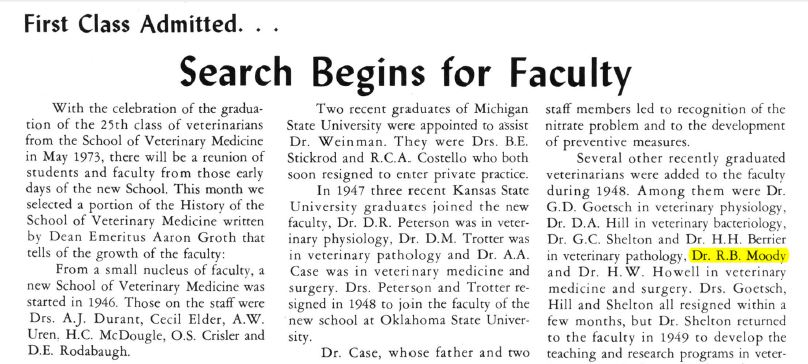 Kellie was thrilled to find out these bits of information that help fill in some gaps in their family's knowledge:
Oh my goodness!!!! I am overwhelmed with gratitude!! I cannot thank you both enough for taking time out of your day to research this for our family!!! My grandma will be overjoyed. He is greatly missed. It is so nice to see his handsome face on that graduation photo 🙂


I can't wait to relay the info to my mom and grandma!! Thank you both so very much, that was so kind of you!!! We are so appreciative!
For Kate and Sue, the question was a fun reminder that they never know what they'll be asked. As Sue commented, "Throw any question at us. We're on it."

Thank you, Kellie, for letting us highlight this story about your family!
And thank you to the MOspace team for digitizing CVM history and bringing it to life!