Did you know that April is National Arab American Heritage Month? This month, we celebrate and recognize Arab American heritage and culture and pay tribute to contributions made by Arab Americans. Join Mizzou Libraries in celebrating this month by supporting Arab American voices and stories with these books!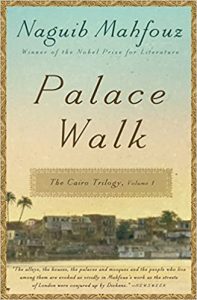 Palace Walk, Naguib Mahfouz
This novel is the first novel in the Cairo Trilogy written by Nobel Prize-winning author Naguib Mahfouz. The Cairo Trilogy follows the family of a tyrannical patriarch, who keeps a strict ruling household while he lives a secret life away from those pressures and expectations. Throughout this novel, we follow the stories of Amina, his oppressed wife, Aisha and Khadija, his sheltered daughters, and his three sons, Fahmy, Yasin, and Kamal. As you turn each page, you begin to see how the family's own struggles mirror the world around them, as we follow their stories through two world wars and a changing country. 
http://merlin.lib.umsystem.edu:80/record=b2327182~S1
The Words of My Father: Love and Pain in Palestine, Yousef Bashir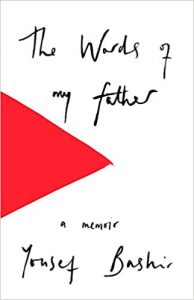 In this candid memoir, author Yousef Bashir details his life growing up next to an Israeli military base and his childhood in Gaza during the Second Intifada. Bashir expresses his commitment to peace in the wake of devastation and brings insightful stories to the reader that highlight the importance of moving past anger, fear, and prejudices. http://merlin.lib.umsystem.edu:80/record=b13062042~S1
Amreekiya: A Novel, Lena Mahmoud
This novel follows the story of twenty-one-year-old Isra Shadi, who, after the death of her mother, is forced to move to California with her uncle and aunt. Remaining an outcast in her house, her family strongly encourages Isra to get married and move out. She believes it is hopeless among the multiple suitors she rejects until she finds Yusef, a man she loved from her past, and marries him. Amreekiya switches between the two storylines of Isra's adolescence and her present-day married life as we watch her struggle between two cultures and how she can define herself. 
http://merlin.lib.umsystem.edu:80/record=b13217031~S1
Hope and Other Dangerous Pursuits, Laila Lalami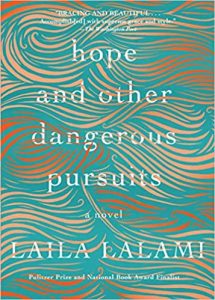 In her debut novel, Laila Lalami tells the gripping story of four Moroccans illegally crossing the Strait of Gibraltar in a boat heading to Spain. We follow the characters of Murad, an educated man who has been forced into hustling tourists for money; Halima, a woman fleeing her alcoholic husband; Aziz, a man forced to leave behind his wife to find work in a new country; and Faten, a young, religious student who finds herself at a crossroads between her faith and an influential man who is determined to destroy her future. This novel has the reader on the edge of their seat, as you wonder will they survive this risky journey, and if they do, will it have been worth it?
http://merlin.lib.umsystem.edu:80/record=b5371575~S1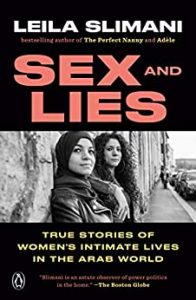 Sex and Lies: True Stories of Women's Intimate Lives in the Arab World, Leila Slimani
In this eye-opening and heartbreaking expose, Slimani documents the lives of Moroccan women and the struggles they face toward sexual liberation. In Morocco, adultery, abortion, homosexuality, and sex outside of marriage are punishable by law, which creates a difficult standard for the women who live there. Women must decide between being a wife or remaining a virgin. Sex and Lies shines a light on the best-kept secrets of women's sexual lives in Morocco and makes a strong case for a sexual revolution in the Arab world. This book isn't yet available to check out from MU Libraries, but you can request it here: http://merlin.lib.umsystem.edu:80/record=b13695020~S1
Danielle Gorman / English Intern / Spring 2021