We've bought a lot of new books lately at the Health Sciences Library. Below are a few of our favorite additions.
Find the complete list of this month's new books here. You can use the drop down menu to see previous month's additions.
Have a purchase recommendation? You can request a book for your teaching or research using this form.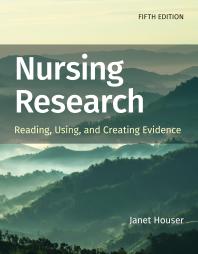 Nursing research : reading, using, and creating evidence / Janet Houser.
Nursing Research: Reading, Using, and Creating Evidence, Fifth Edition is a foundational text for students which teaches the basics for creating and using evidence in nursing practice. Today's nurse needs to demonstrate proficiency in reading research, determining its use in their practice, and participating in the research process. The Fifth Edition is intuitively organized around the three main competencies – reading, using and creating evidence – all of which enable the reader to translate research into evidence in a practical way. This text is intended to teach and support the clinical practice of students, professional nurses returning to school, and practicing nurses that must apply evidence to patient care.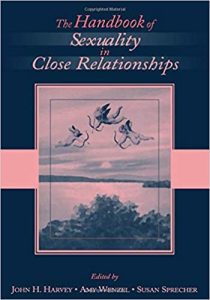 The handbook of sexuality in close relationships / edited by John H. Harvey, Amy Wenzel, Susan Sprecher.
Although sexuality is an integral part of close romantic relationships, research linking these two constructs has been less systematic than other areas pertaining to close relationships. To date, researchers in communication, sociology, family studies, psychology, and psychiatry, have made significant advances in both of these fields. The editors' goal is to integrate this research into one volume. They bring together major scholars from the diversity of fields working on close relationship topics to examine past contributions and new directions in sexuality. The emphasis is on theoretical integration and stimulation, methodological rigor, and critical analysis.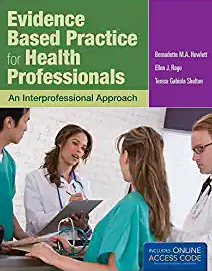 Evidence based practice for health professionals : an interprofessional approach / Bernadette Howlett, Ellen J. Rogo, Teresa Gabiola Shelton
Evidence based practice (EBP) has become the standard in health care practice today. Evidence Based Practice for Health Professionals covers the fundamentals of applying medical evidence to clinical practice and discussing research findings with patients and fellow professionals. This essential text explains the basic concepts of EBP, its applications in health care, and how to interpret biostatistics and biomedical research. With examples derived from multiple health professions, Evidence Based Practice for Health Professionals teaches the skills needed to access and interpret research in order to successfully apply it to collaborative, patient-centered health care decisions. Students gain valuable practice with skill-building learning activities, such as explaining the evidence for treatments to patients, developing a standard of care, selecting a diagnostic tool, and designing community-based educational materials. Evidence Based Practice for Health Professionals also helps prepare students to communicate knowledgeably with members of interprofessional healthcare teams as well as withpharmaceutical sales representatives.
Medical marijuana : a clinical handbook / Samoon Ahmad, Kevin P. Hill.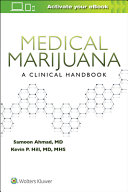 Medical Marijuana: A Clinical Handbook summarizes what is currently known about the positive and negative health impacts of cannabis, detailed pharmacological profiles of both THC and CBD, considerations for each medical specialty, treatment approaches used by practicing clinicians, and insights into the history of cannabis and the current regulatory environment in the United States. This concise, easy-to-navigate guide is an invaluable resource for physicians and residents, nurse practitioners, pharmacists, and other clinicians who seek reliable clinical guidelines in this growing area of health care