September 15th – October 15th is National Hispanic Heritage Month. To celebrate at Mizzou Libraries, we've curated a list of books with the help of Mizzou's Association of Latin@ American Students,  the Cambio Center, and some faculty from the School of Languages, Literatures, and Cultures. Thank you to these groups for taking the time to share their expertise and recommendations.
Below are a few we have available for check out. You can view the whole list of book recommendations here.
Have a purchase recommendation? Use our book recommendation form.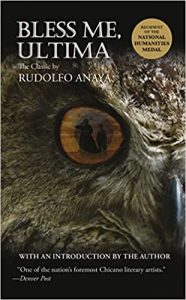 Bless me, Ultima, Rudolfo A. Anaya.
The winner of the Pen Center West Award for Fiction for his unforgettable novel Alburquerque, Anaya is perhaps best loved for his classic bestseller, Bless Me, Ultima… Antonio Marez is six years old when Ultima comes to stay with his family in New Mexico. She is a curandera, one who cures with herbs and magic. Under her wise wing, Tony will probe the family ties that bind and rend him, and he will discover himself in the magical secrets of the pagan past-a mythic legacy as palpable as the Catholicism of Latin America. And at each life turn there is Ultima, who delivered Tony into the world…and will nurture the birth of his soul.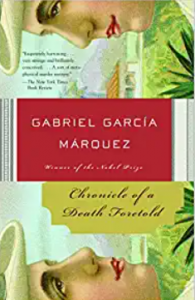 Chronicle of a Death Foretold, Gabriel García Márquez 
A man returns to the town where a baffling murder took place 27 years earlier, determined to get to the bottom of the story. Just hours after marrying the beautiful Angela Vicario, everyone agrees, Bayardo San Roman returned his bride in disgrace to her parents. Her distraught family forced her to name her first lover; and her twin brothers announced their intention to murder Santiago Nasar for dishonoring their sister. Yet if everyone knew the murder was going to happen, why did no one intervene to stop it? The more that is learned, the less is understood, and as the story races to its inexplicable conclusion, an entire society–not just a pair of murderers—is put on trial.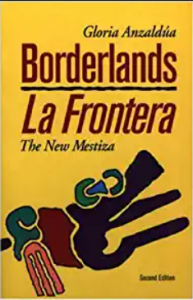 Borderlands = La frontera, Gloria Anzaldúa 
Rooted in Gloria Anzaldúa's experience as a Chicana, a lesbian, an activist, and a writer, the essays and poems in this volume challenge how we think about identity. Borderlands/La Frontera remaps our understanding of what a "border" is, presenting it not as a simple divide between here and there, us and them, but as a psychic, social, and cultural terrain that we inhabit, and that inhabits all of us. This 20th anniversary edition features a new introduction comprised of commentaries from writers, teachers, and activists on the legacy of Gloria Anzaldúa's visionary work.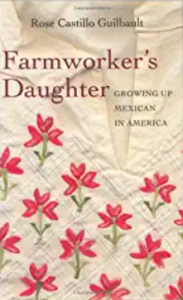 Farmworker's daughter : growing up Mexican in America, Rose Castillo Guilbault
Guilbault was born in Sonora, Mexico in 1952, and in 1957 moved with her recently divorced mother to the U.S., where they settled in California's Salinas Valley. In this flowing autobiography, she describes her experiences growing up as a Mexican immigrant in a farming community during the 1960s, and the challenges of maintaining a place in her immigrant family homelife while also acculturating to the public/American world around her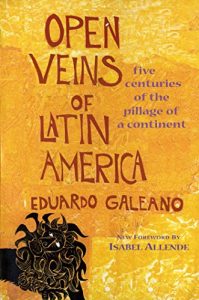 Open veins of Latin America ; five centuries of the pillage of a continent, Eduardo Galeano
Rather than chronology, geography, or political successions, Eduardo Galeano has organized the various facets of Latin American history according to the patterns of five centuries of exploitation. Thus he is concerned with gold and silver, cacao and cotton, rubber and coffee, fruit, hides and wool, petroleum, iron, nickel, manganese, copper, aluminum ore, nitrates, and tin. These are the veins which he traces through the body of the entire continent, up to the Rio Grande and throughout the Caribbean, and all the way to their open ends where they empty into the coffers of wealth in the United States and Europe.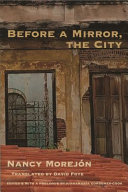 Before a mirror : the city / Nancy Morejón ; edited and with an introduction by Juanamaría Cordones-Cook ; translated by David Frye
The African Cuban poet Nancy Morejón set out at a young age to explore the beauty and complexities of the life around and within her. Themes of social and political concern, loyalty, friendship and family, African identity, women's experiences, and hope for Cuba's future all found their way into her poems through bold metaphor and tender lyricism. Although Morejón does not sympathize as much with intellectualized feminism as with "street" feminism (the kind that erupts with force as it confronts daily life), her poems illuminate issues in women's existence. Without intending to, she has revitalized contemporary Caribbean feminist literary discourse. One can find in her work the tensions between colonizer and colonized, dominator and dominated, and at the same time enjoy the sheer beauty of images depicting suffering, strength, and hope.