Research Enriches Undergraduate Writers' Creative Nonfiction
Julija Šukys, Assistant Professor of English and creative nonfiction writer, says, "Libraries are one of my great loves. I'm a huge champion of libraries." Much of her work is deeply researched, including her most recent books. Epistolophilia: Writing the Life of Ona Šimaitė is an unconventional biography of the Lithuanian librarian whose heroic actions saved an untold number of lives during the Holocaust, while Siberian Exile: Blood, War, and a Granddaughter's Reckoning, published in October, investigates her own family's complicated history.
Julija introduces her advanced undergraduate students to the pleasures of combining research and creative work by incorporating a library research day into all of her nonfiction workshops. She finds that sometimes students at this level are "starting to tell the same stories over and over again," and research is "a way of showing them how you break out of that, how you break out of writing the same narratives. It's a way of showing them that there's a bigger world and to look up, to look out, and to learn something as you write. Writing is a way of actually understanding the world better."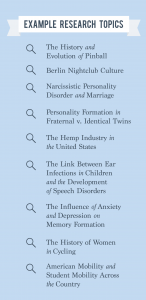 Students begin by drafting personal essays and then are instructed to ask themselves, "What's the piece that I could crack open with the help of research?" At this point, Julija sends Anne Barker, her subject librarian, their list of research questions. Because the topics arise out of students' personal stories and interests, this list can be quite quirky.
By the time students show up at the library, Anne has gathered resources appropriate to the various topics. These workshops meet for weekly for two and a half hours, so one class session can accommodate both instruction and practice. During the first half of the session, Anne introduces them to library databases and also demonstrates search strategies that facilitate research "in the broadest terms." Julija says, "We search really wide-ranging stuff, both scholarship as well as how to find things on Google Books, how to find movies, how to find video clips that are going to be interesting and useful. Students learn that there's this enormous world that's available to them."
Then during the second half of the session, students begin their quest to find two sources for their essays. They have time to run searches, ask questions, and find books in the stacks. Julija reports that students often have their first experience requesting books through MOBIUS or interlibrary loan, or as she calls it, experiencing "the pleasure of having books sent to you from other places in the world." Some of her students end up using maps or newspapers or doing genealogical research. "What I really want them to learn," Julija says, "is how to work in a library and how to think about resources and for them to discover the pleasure of working both with archival materials and with books."
This assignment brings what Anne calls her "detective instincts" to the forefront. She says, "I enjoy working individually with the students to think of different angles to pursue and different types of materials that could augment their research and then seeing them return with the things they've discovered. It's like opening a treasure chest whose contents they can continue to explore for a long time."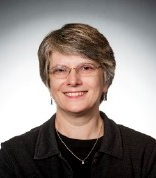 In addition to helping students find new possibilities in their writing, Anne's instruction helps Julija accomplish her mission of teaching her students how to use libraries. "Libraries are good places to work, and libraries are places for solace," she tells them. "Libraries can be this place where you go when you've run out of ideas."
Julija advises other instructors interested in incorporating library instruction into their classes to "plan it in advance and contact the subject librarian early." She has also found that giving students concrete tasks helps them be able to put what they've learned to immediate use, and another recommendation is to "give students class time to do the hands-on work." Conducting their own research with a librarian available gives students an appropriate balance of independence and support. "It's very individualized, and on the other hand they're learning transferable skills."
Julija's advice to students is simple: "Talk to a reference librarian because they have skills you can't even imagine."
Cycle of Success is the idea that libraries, faculty, and students are linked; for one to truly succeed, we must all succeed. The path to success is formed by the connections between University of Missouri Libraries and faculty members, between faculty members and students, and between students and the libraries that serve them. More than just success, this is also a connection of mutual respect, support, and commitment to forward-thinking research.
If you would like to submit your own success story about how the libraries have helped your research and/or work, please use the Cycle of Success form.