Before becoming an instructor in the University of Missouri's Intensive English Program (IEP), Liza Armstrong taught a little further from home, such as at Al Akhawayn University, located in the Atlas Mountains of Morocco. Now she helps the Center for English Language Learning fulfill its mission of "providing high quality English language instruction to non-native speakers of English to prepare them for university-level studies, professional endeavors and community engagement." Liza's interests are in the development of second language reading and writing skills, information technology, and reading assessment, and she recently presented about text analysis tools in the development of IEP reading exams at the TESOL Convention.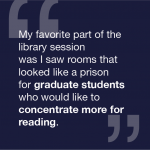 Word of Mouth
Liza first began bringing her advanced reading classes in for library instruction based on the recommendation of Barbara Leonhard, an advanced communication instructor. At that time, emerita librarian Goodie Bhullar taught the research sessions. Liza says, "Goodie, who had been an international student herself, seemed to have an instant rapport with the students and was interested in learning students' names, where they were from, and what their research interests were."
Goodie's lesson made an impression. Students didn't just learn about the quality resources Mizzou Libraries make available to them and how to run better searches. They also got hands-on practice searching library databases to find quality sources. "Nearly every semester since then," Liza says, "I have taken my IEP classes to the library so that students understand that at MU they have access to a huge amount of high-quality information and plenty of help in finding it."
The Tradition Continues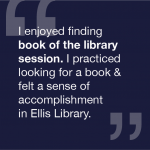 Today, Cindy Cotner continues to deliver the invaluable instruction that helps Liza's reading-writing students navigate the library and become comfortable with academic research: "Cindy gave students a physical tour of the library, explaining how the circulation desk worked and where students could scan books, find resources like books and videos, study, and even grab a coffee."
Then the work of learning how to find those suitable resources began. Students not only received the usual instruction on how to search library databases but also participated in a scavenger hunt. Cindy distributed cards with a book title and call number, and students worked in pairs to find the book on the shelves. Liza says they "enjoyed winding through the stacks of books and felt victorious when they found their books."
Cindy also shared information about Library Workshops for International Students (LibWIS), giving students further opportunities to learn about advanced research strategies, citation management, and more.
When Liza saw her students' essays, she was delighted to find that many had used library databases to find quality sources. Liza notes, "Many of them also indicated that they appreciated the citation tool, which helped them to write their APA reference pages more quickly and accurately."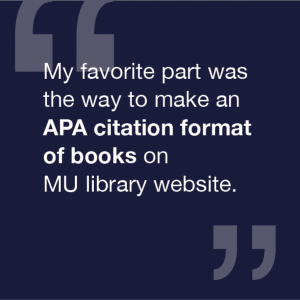 Be Brave
Liza's best advice for international students is "to be brave and ask librarians and staff questions." She also recommends attending library workshops, especially those with a focus on international students. By learning how to use the library early in their academic careers, students can save time in the long run, create higher quality assignments, and build better study habits. "Students may think that using library databases and tools is intuitive," she says, "but there is always new information, and library systems often change and are updated."
In fact, Liza confesses that she herself learns something new each time her classes visit the library!
Cycle of Success is the idea that libraries, faculty, and students are linked; for one to truly succeed, we must all succeed. The path to success is formed by the connections between University of Missouri Libraries and faculty members, between faculty members and students, and between students and the libraries that serve them. More than just success, this is also a connection of mutual respect, support, and commitment to forward-thinking research.
If you would like to submit your own success story about how the libraries have helped your research and/or work, please use the Cycle of Success form.