When lifelong musician Murry Hammond came to Columbia with his band of twenty-five years, Old 97's, for the Roots N Blues N BBQ Festival, he couldn't pass up the opportunity to spend a few days conducting research in Ellis Library. In addition to being a musician, Murry describes himself as a "lay historian with a lifelong passion for preservation and writing history, specializing in transportation and industrial history of primarily Texas, Louisiana, and Oklahoma." He has digitized and published thousands of images to his website Texas Transportation Archive over the past two decades and is the author of East Texas Logging Railroads.
How did Murry find out that Ellis Library had a wealth of resources in his areas of specialty? The answer is WorldCat, the online catalog that searches the collections of libraries worldwide. Old 97's had been a Blue Note regular for years, but Murry never had enough time in Columbia for any real research. When they performed at Roots N Blues, however, he flew in several days early and had a "dream visit."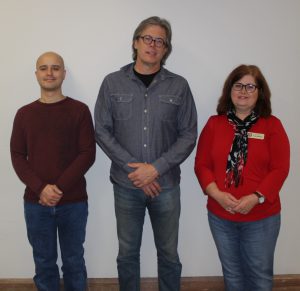 Eric Cusick, Karen Eubanks, and Burt Fields were the key staff members who helped make Murry's time at Ellis Library a successful one. Karen describes her colleagues at the Circulation and Help Desk as the "face of the library" as students and visitors often ask their very first questions there–and the questions vary widely. Students may need anything from directions to the research help desk to a band-aid, and visitors may be curious about events on campus or downtown. Because each circulation team member has different strengths and experiences, they are able to help people find the information (or bandages) they need.
Murry initially corresponded with Eric about the materials he needed before his arrival, and Karen set him up in a location conducive to using his scanner and safely handling fragile materials. She says, "When Murry arrived early one morning at the circulation desk ready to begin his work, I was able to locate a quite study space in our offices that was suitable for his research as he had brought his own scanner and needed a large desk area to accommodate the many large volumes he had requested through Eric from the depository," the off-campus storage facility. Burt worked with library staff at the depository to help Murry retrieve additional materials as needed during his visit. Murry spent three days, one clocking in at 16.5 hours, conducting research in Ellis Library and was back in December to work with more library materials.
"Mizzou Libraries helped significantly cut down my time at the New York Public Library and the Library of Congress," Murry says. "I've been in literally dozens of the major archives and special collections in most of the lower 48 states, and Mizzou Libraries is in easily in my top ten, at least for what I research. Thank you!"
Cycle of Success is the idea that libraries, faculty, and students are linked; for one to truly succeed, we must all succeed. The path to success is formed by the connections between University of Missouri Libraries and faculty members, between faculty members and students, and between students and the libraries that serve them. More than just success, this is also a connection of mutual respect, support, and commitment to forward-thinking research.
Although the Cycle of Success typically focuses on the relationships among the Libraries, faculty, and students, the Libraries also contribute to the success of all the communities Mizzou serves. The Libraries are an integral part of Mizzou's mission "to produce and disseminate knowledge that will improve the quality of life in the state, the nation and the world."
If you would like to submit your own success story about how the libraries have helped your research and/or work, please use the Cycle of Success form.