Tove Klovning, who serves as US, MO, and EU Government Documents Depository Coordinator as well as Foreign/Comparative/International Law Librarian & Lecturer in Law at Washington University in St. Louis, often interacts with researchers seeking access to both historical and current government information. She explains, "Preserving government information and making it accessible for both current researchers and future generations is an important task for depository libraries." In her work at a sub-regional and Federal depository library, she has benefited from the direction and guidance of Marie Concannon, Missouri's regional coordinator for the Federal Depository Library Program and Head of Government Information and Data Archives here at Mizzou Libraries.
Tove says she "honestly could not have wished for a more competent Regional Depository Coordinator. Marie is always there to answer any questions we may have and is always willing to offer training, updates, and continuing education to both new and established depository librarians on a regular basis." For example, when Tove needed input regarding weeding the local collection, Marie consulted with her.
Marie has also worked to help libraries free up much-needed space while retaining government resources in the region: "Thanks to her great work with area depository librarians, an Intrastate Regional agreement was put into place in 2012." This model encouraged depository libraries to stay in the program, Tove explains, since sharing resources helps each individual library better cope with the perpetual struggle of space issues. Marie met face-to-face with about a dozen depository libraries in St. Louis to facilitate the process of drafting this agreement.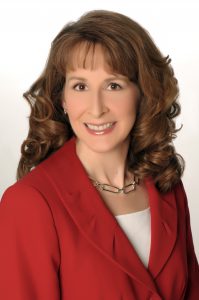 In terms of training and support for depository librarians in the region, Tove has found that Marie plays a vital role as educator. A frequently consulted resource is a guide for Missouri FDLP members which helps librarians navigate the federal depository system. Marie built and maintains this guide to facilitate online access to crucial information for these librarians and help keep them informed of training opportunities and conferences.
Organizing workshops and conferences is another way Marie makes sure librarians can get up-to-date training on government information so that they can help patrons access the data they need. In November, Missouri state government employees and both academic and public library employees attended the Missouri State Government Information Conference, which she co-organized. The 2017 theme was "Sunshine and Missouri's Digital Future," taking its name from the state Sunshine Law. Marie says the conference's purpose is "to bridge the gap between libraries and government, and help lay groundwork for closer partnership on projects involving government information accessibility."
For all of these reasons and more, as Tove says, "We are very fortunate to have Marie as our Federal and State Regional Coordinator."
Cycle of Success is the idea that libraries, faculty, and students are linked; for one to truly succeed, we must all succeed. The path to success is formed by the connections between University of Missouri Libraries and faculty members, between faculty members and students, and between students and the libraries that serve them. More than just success, this is also a connection of mutual respect, support, and commitment to forward-thinking research.
Although the Cycle of Success typically focuses on the relationships among the Libraries, faculty, and students, the Libraries also contribute to the success of all the communities Mizzou serves. The Libraries are an integral part of Mizzou's mission "to provide all Missourians the benefits of a world-class research university."
If you would like to submit your own success story about how the libraries have helped your research and/or work, please use the Cycle of Success form.