This post is part 3 of our continuing series on Dr. Juliette Paul's English 4300 class and their research on an early American manuscript in Special Collections.
by Sarah Fine
When we think of blogging, we probably think of someone sitting in front of a computer. However, the concept of blogging isn't new; in fact, people have been practicing forms of life writing for hundreds of years. Most people are probably familiar with diaries, but 18th-century Americans also composed scrapbooks and commonplace books, and used these outlets much in the same way that modern life writers might use social media. So, what was The Lucubrator to its author?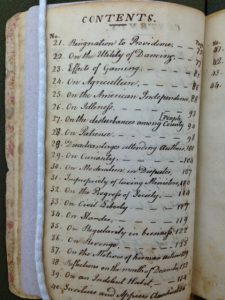 We have a little evidence to go by. First, as far as we can tell, the manuscript was never published, either in whole or in part. A diary, to an 18th-century writer, would have been an outlet for private, personal expression, much like a personal blog today; and the author of The Lucubrator certainly expresses him or herself in a series of opinionated essays. However, we can tell from the somewhat disorganized nature of the book that it probably was not meant to be a diary, if only because this book is not like other early modern diaries that exist today. First, in their subject matter, as Harriette Merrifield Forbes notes:
Many of the diaries listed [in catalogues] seem to have but little value,
but however insignificant they may contain facts saved by no one else and of great interest to a few. Others, like those of Judge Samuel Sewall, and the Rev. Ebenezer Parkman, give nearly complete histories of the social life of the towns where the diarists lived. (vii)
The Lucubrator deals only with very general topics; there is no mention of, for example, specific people in the author's life, in a specific place, or even during specific events (with the exception of Independence Day); in other words, we would expect a diary to include more specific references to his or her own life than The Lucubrator does because, well, it is a diary. Secondly, The Lucubrator doesn't look at all like you'd expect a diary to look; it has page numbers, but the dates given in the individual entries are inconsistent and not always in chronological order. The entries are also titled, and the book has a title page and a table of contents. It's highly unlikely that a normal diarist would ever go to such lengths to decorate his or her own diary only to inscribe the entries irregularly and out of order.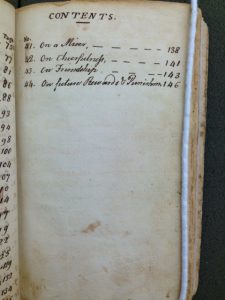 So, if The Lucubrator is not a diary, does that mean it was meant to be shared? If so, that would make the manuscript more akin to a scrapbook, which, like the scrapbooks of the 21st-century, would be used to log the creator's experiences for the sake of revisiting them later. Actually, 18th-century scrapbooks were a lot like Facebook; according to Katie Good, a scrapbook was meant to document relationships, collect media (which, as print grew, was becoming more abundant), and express personal tastes while building "cultural capital" (557). The Lucubrator obviously does one of these things: it expresses the writer's personal tastes or beliefs. It may also do a second, in that it may be a means of collecting media. However, that could mean that the essays are more or less plagiarized. It was not uncommon in the 17th-and 18th– centuries for a reader to, upon feeling connected with a certain piece, copy it down, perhaps as a means of committing it to memory, or as a means of putting it in a convenient place (i.e. a scrapbook) where it could be easily found again for rereading. However, this assertion is almost as unlikely as the diary hypothesis, namely because there is no record of the essays in print anywhere else; none, at least that can be easily found. It could be that the writer paraphrased or shortened essays that he or she read elsewhere. But a scrapbook, according to Good, should also document personal relationships or memories (The Lucubrator is so vague that we can't say with certainty where it even came from, let alone who it is about), and should contain some sort of printed memorabilia¾ticket stubs, playbills, letters, or cards. The Lucubrator doesn't contain anything like this, except for a single broadside, found folded and tucked into the back cover. However, due to the book's unclear history, we can't know whether this broadside was original to the book or was placed there for safekeeping by one of its many owners through the centuries.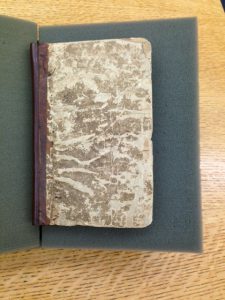 So, if The Lucubrator is neither a diary nor a scrapbook, what is this thing? We can best classify it as a commonplace book, which is not dissimilar to a Tumblr page; commonplace books were meant to contain a writer's original thoughts or reactions to others' work, as well as copied-down essays or works written by others, much in the same way a Tumblr page can contain both original posts and the reblogged posts of others. They were meant as places for reflection; the Enlightenment had made self-improvement through education a very popular idea, and commonplace books popped up as a means of fostering one's own critical thinking about events or readings. This fits The Lucubrator to a T. Fred Schurink writes that, of the commonplace books that have survived, the majority are academic in tone, and carefully organized; some, even the more casual ones, include handwritten indices to allow the collector to find passages more easily (463, 466). The Lucubrator looks similar to one contemporary commonplace book, that of Hector Orr. Orr's essays are similarly numbered and titled. His subject matter is quite similar as well, as the manuscript comprises mostly moralistic or observational essays. However, unlike The Lucubrator, Orr's commonplace book does not have a table of contents, page numbers, or dated entries. The primary detractor from the commonplace book hypothesis is that The Lucubrator is decidedly un-academic. While it is possible that the essays are responses to the author's readings, those readings aren't named, nor are their sources or authors given. The writer also doesn't include (or, at least, doesn't denote) direct quotations from these source works. This would suggest that the author wasn't taking notes while reading another work, and at most might be writing in response to those works.
With all of these criteria in mind, it becomes clear that The Lucubrator does not fall neatly into a single category. Of course, The Lucubrator could also be a sort of mashup of all three genres. According to Zboray and Zboray, separate books would sometimes combine or even transform over time: "While the folks who created these literary items recognized each one's distinct form and purpose … in practice they often merged formats, so that a diary, for example, could easily morph into a scrapbook or a scrapbook into a commonplace book" (Zboray, et. al, 12). So, the author of The Lucubrator could very well have used the manuscript as a venue to write response essays to other, published essays, or to events in his or her life. This would, in a way, place the manuscript in both the scrapbook category, as it is a means to commemorate the works of others, and as a commonplace book, as it is a place to reflect upon those works. This would imply that the creation of the book was a personal project, and that the manuscript was not meant for publication, or possibly even for sharing among family and neighbors.
---
Works Cited
Forbes, Harriette Merrifield. New England Diaries: 1602-1800; a Descriptive Catalogue of Diaries, Orderly Books and Sea Journals. New York: Russell & Russell, 1967.
Good, Katie. "From Scrapbook to Facebook: a history of personal media assemblage and archives." New Media and Society. 15.4 (2013): 557-73.
Orr, Hector. Commonplace book of Hector Orr, 1789-1804. Colonial North American Project. Harvard University. Web. Accessed April 15, 2016.
Schurink, Fred. "Manuscript Commonplace Books, Literature, and Reading in Early Modern England." The Huntington Library Quarterly. 73.3 (2010): 453-69.
Zboray, Ronald J. and Mary Saracino Zboray. "Is It a Diary, Commonplace Book, Scrapbook, or Whatchamacallit? Six Years of Explorations in New England's Manuscript Archives." Libraries and the Cultural Record. 44.1 (2009): 101-23.