Happy Independence Day from those of us here at Special Collections! In honor of the day of America's declaration of independence from England, here are some items from our collections about the document that started it all.
First, from our poster collection, is this reproduction of the Declaration, produced by the Marquette Cement Manufacturing Company to "foster a greater appreciation of the fundamentals of Americanism" in 1925. A block of text on the back asks the question "Why not celebrate the 4th of July by displaying this facsimile of the Declaration of Independence in your home or place of business." To that we say: way ahead of you, Marquette Cement Manufacturing.
Here's a close up of some of the signatures that anyone familiar with the document will recognize: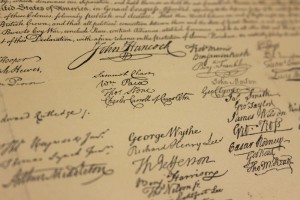 From our Rare Collection is this beautifully illustrated pamphlet on the story of the Declaration: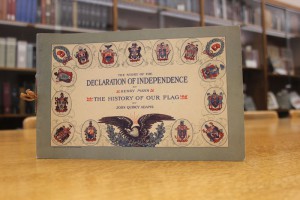 Published in 1903, it includes a history of the events leading up to the writing of the document, portraits of the signers, and an essay on the history of the American flag by John Quincy Adams.
For other items relating to Independence Day in our collections, including our collection of Fourth of July Orations, stop by and see us, and have a happy Fourth!