The Great Gatsby is seen by critics and the general public as F. Scott Fitzgerald's quintessential novel, and is the novel he is most famous for. It tells the story of a rich man named Jay Gatsby and his quest to regain a past love. As its most recent movie adaptation is currently playing in theaters, Special Collections invites you to take a look back on the novel and the man that created it.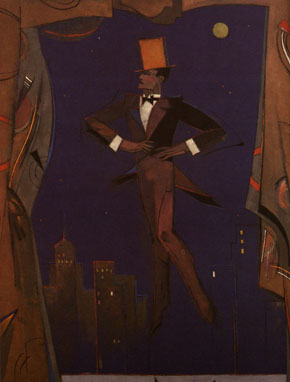 Francis Scott Key Fitzgerald was born on September 24, 1896 in St. Paul, Minnesota and named after his second cousin three times removed, the Francis Scott Key of national anthem fame. While on academic probation at Princeton, Fitzgerald enlisted in the army in 1917. In June 1918, he was assigned to a camp near Montgomery, Alabama, where he met and fell in love with Zelda Sayre. In late 1919, after being discharged from the army and quitting his job in advertising, Fitzgerald began his career of writing short stories for magazines and other publications, with The Saturday Evening Post becoming his best story market. He published his first novel, This Side of Paradise, in March 1920 and married Zelda Sayre soon after. His success and the extravagant lifestyle of the young couple soon earned him a reputation as a bit of a playboy. He also became known as a heavy drinker, though he always wrote sober. After the publication of his second novel, The Beautiful and Damned, and the birth of his child, Frances Scott (Scottie) Fitzgerald, in 1921, the Fitzgeralds moved to Long Island where F. Scott wrote short stories to cover the family's debt after his play, The Vegetable, failed to make it into production. The family moved to France in the spring of 1924 so that F. Scott would be able to focus on his newest project, the novel that would become The Great Gatsby.
Before it became The Great Gatsby, Fitzgerald's novel went through many revisions and forms. Special Collections has in its possession a facsimile of one such early edition, entitled Trimalchio. This is an allusion to a Roman novel, The Satyricon by Petronius. In this novel, Trimalchio is a freedman who has amassed power and wealth and shows this off by hosting exceedingly lavish dinner parties for his numerous guests. This copy includes correspondence between Fitzgerald and a man by the name of Perkins, Fitzgerald's friend and an employee of his publishers, in which Perkins makes suggestions for revision and suggests using a different title (pictured below right).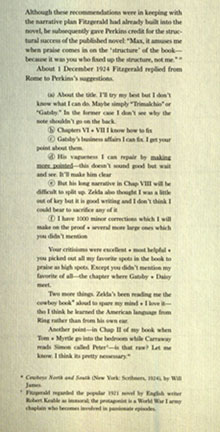 Shortly after this, Fitzgerald rewrote several aspects of his novel and reordered key scenes, such as the one where Gatsby's past is illuminated.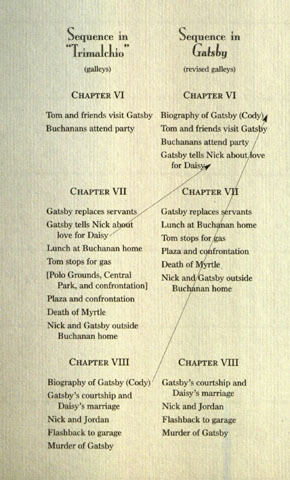 The Gatsby we know today comes in many different forms and editions. One of the more unique Gatsbys at Special Collections comes in the form of a fantastical graphic novel adaptation by Nicki Greenberg, in which Jay Gatsby is portrayed as a seahorse
and the others as any number of creatures.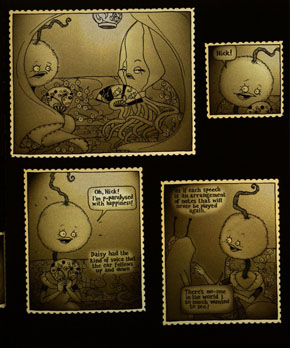 There are also a number of more conventionally illustrated editions of The Great Gatsby in existence, such as the 1980 Limited Editions Club which is illustrated by artist Fred Meyer, whose recognizable style brings the Jazz Age to life on the page.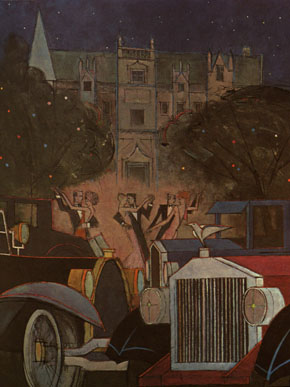 Most people are familiar with The Great Gatsby after having spent some time studying it at either a high school or college level. From Professor Lago's collection, we have her copy of The Great Gatsby, which has been heavily annotated for use as a teaching tool. Her extensive notes comment on such key themes as morality and hope. On the page shown here, she notes the importance of color symbolism, among other things.
In the years after The Great Gatsby was published, Fitzgerald began work on his fourth novel, Tender is the Night. Work on this novel was put on hold throughout the years due to Zelda Fitzgerald's declining mental and physical health. During her stay in a clinic in Switzerland, F. Scott returned to writing short stories for income. He completed Tender is the Night in 1934, though it was ultimately a commercial failure.
In the summer of 1937, Fitzgerald went to Hollywood to work as a screenwriter. It was there that he began an affair with columnist Sheilah Graham. After MGM Studios dropped his contract at the end of 1938, he worked as a freelance script writer and continued writing short sories. He began work on his last novel, The Love of the Last Tycoon, in 1939 and had more than half of it written when he died of a heart attack on December 21, 1940.
Though Fitzgerald was not much of a commercial success during his lifetime, he is now considered to be the author of one of the "great American novels" and is esteemed for his accurate portrayals of the Jazz Age. Many of his works, including collections of his short stories, are available for use by patrons in the Reading Room of Special Collections.
Bruccoli, Matthew J. "A Brief Life of Fitzgerald." Biography of F. Scott Fitzgerald. The F. Scott Fitzgerald Society, n.d. Web. 21 May 2013. http://www.fscottfitzgeraldsociety.org/biography/index.html.
"Trimalchio." Trimalchio. N.p., n.d. Web. 23 May 2013.
<http://www.princeton.edu/~achaney/tmve/wiki100k/docs/Trimalchio.html>.