Not far from the false indigo we featured last week, just outside the west entrance to Ellis Library, there's a beautiful red valerian in full bloom. The scientific name for this plant is Centranthus ruber. It's also called Jupiter's Beard or spur valerian.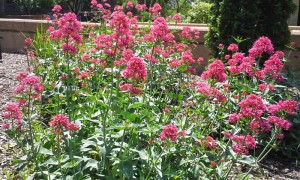 While red valerian is a member of the family Valerianaceae, it's not really a valerian. True valerian is known scientifically today as Valeriana officinalis. Its roots were used medicinally and were thought to have a sedative effect. Centranthus ruber has no known medicinal uses, although some sources claim it's edible. I didn't try it, and I don't advise you to, either!
In the past, Centranthus ruber and a few other members of its genus were thought to be closer relatives of true valerian than scientists believe they are today. In 1816, the plant was published in Curtis's Botanical Magazine with a list of various other Valeriana species. The plant pictured here, identified as Valeriana montana rotundifolia, is now known as Centranthus calcitrapa. It is a hardy perennial, native to southern Europe.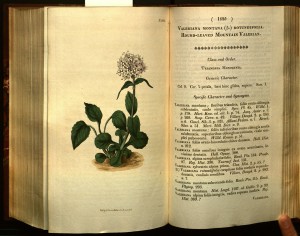 This post wraps up our weekly series celebrating the connections between our collections and the Mizzou Botanic Garden – for now, at least. I'll continue to use Special Collections to research the plants around us periodically over the summer and fall. Have you seen a plant on campus or elsewhere that you'd like us to feature? If so, let me know!