James B. Nutter, Sr., the founder of James B. Nutter & Co., passed away on July 7, 2017, at his Kansas City home. Nutter graduated from the University of Missouri with a Bachelor's degree in 1949. Along with creating one of the largest privately owned mortgage banking firms in the nation, he was generous with his time and money, giving away much of his wealth to charities and causes, including libraries.
Nutter once stated that he was inspired by his father's appreciation of libraries, "My interest in libraries comes from my father, who felt that libraries are one of the most important things our country could have. So when I had an opportunity to make an improvement in the MU Libraries, I wanted to do so."
Nutter was one of the early donors to MU's first major fundraising campaign, For All We Call Mizzou, donating $1.25 million to the Libraries for an information commons.
The James B. Nutter Family Information Commons opened in the fall of 2004. The space immediately had a huge impact on the MU student body, which continues to this day. The Information Commons provides individual and group study space and integrates the latest online information resources and the expertise of library staff. The 25,000 square foot facility features comfortable seating for more than 300 people, and 100 fixed computer workstations. Any day during the school year, the space is full of students studying and doing research.
Nutter was married to Annabel Fisher Nutter for nearly 63 years. She survives along with his son, James B. Nutter Jr., who is president and chief executive of James B. Nutter & Co. He was preceded in death by his daughter, Nancy Ann Moore, who died of breast cancer in 2003.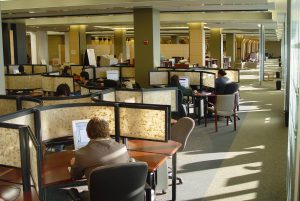 Save
Save