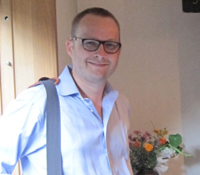 Professor Sean Franzel from the German and Russian Studies department is our guest for the Teaching Spotlight this month. His research interests span the culture, philosophy, and history of eighteenth- to twentieth-century Germany and include the history of education and the university; media theory; German Idealism and Romanticism; and the history of the novel. Professor Franzel is a frequent visitor to the Special Collections and Rare Books department, and we were delighted to have a chance to ask him a few questions.
SC: How did you incorporate Special Collections into your teaching?
I have used SC repeatedly for two courses I teach. In a graduate seminar on the literature of the medieval and baroque periods in Germany, I usually take the students in for two separate visits. First we look at an introductory selection of Special Collections' excellent medieval manuscripts and representative early printed books (incunabula). We then go in a second time to examine SC's sixteenth century emblem books. This was a very popular pedagogical genre throughout Europe at the time that placed poetry and allegorical images side-by-side. For me it is important that my students get an initial sense that what literature is and does has changed so much since antiquity. It is also very important for students to think about how books operate on visual and textual levels; emblem books are great for discussing this, because they are all about the interaction between text and image.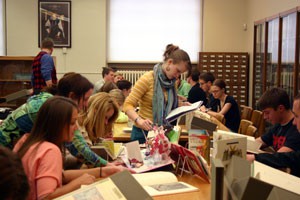 In my undergraduate Introduction to German Literature course, we do a section on children's literature, and we go in to SC to look at their excellent collection of children's books. This is fun for students because they learn to appreciate how books for children have played such a wide range of functions throughout history, from basic ABC primers for reading the Bible to very imaginative fantasy books. I ask students to look at the books and think about differences in form, function, design, audience, etc. Basically, I think that taking students to special collections is a way to awaken their curiosity as well as their critical ability to differentiate between the various functions that books and other media have had over time.
SC: What outcomes resulted from your class visits? What were the effects on your students?
I think students respond really well to the visits; inspired papers and active discussions usually ensue in the class sessions following a visit. In an age when every assignment or paper can appear in uniform PDF-format on a laptop or e-reader, it is really important to hold actual books in our hands. Sometimes even just the realization that books used to be made on papyrus or animal skin is enough to change the way we think about how we process information today in the digital age. Personally I also love going into SC because I learn something new each visit. I get a lot out of trying to imagine the socio-historical contexts in which books were made and used— it is amazing how many new insights come from actually holding the books in your hands! In fact, my trips to SC have inspired me to get a more systematic introduction to book history, and I am going to take a course this summer at the UVA Rare Books School on the history of the book. I am very excited about this, and about incorporating more book history into my teaching.
SC: What advice would you give to faculty or instructors interested in using Special Collections in their courses?
There is so much interesting material in our library, chances are that it has something relevant for most courses, even if simply to shed light on the history of certain issues across the sciences and the humanities. And it is hard not to sign on to spending a class session looking at cool stuff! So even if instructors do not have a clear idea about what they want to do, they should contact the SC librarians for advice and guidance. Alla Barabtarlo and her team are all extremely helpful, knowledgeable, and eager to show students what the library has to offer!