This week is Open Access Week! Open Access Week, a global event now entering its fourteenth year, is an opportunity for the academic and research community to continue to learn about the potential benefits of open access, to share what they've learned with colleagues, and to help inspire wider participation in helping to make open access a new norm in scholarship and research.
This week we are highlighting the completely online and open access journal RRNMF Neuromuscular Journal, founded by Dr. Richard Barohn, Executive Vice Chancellor for Health Affairs at the University of Missouri.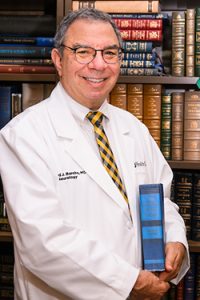 Launched back in 2020, RRNMF Neuromuscular Journal is a collaboration with the University of Kansas Libraries that provides researchers in neuromuscular medicine an avenue to publish with no author fees and ownership of their copyright. And there are no subscription fees for readers and libraries. It's true open access. "We wanted to create a completely new type of publication that we have total control of and for which there was NO CHARGE to readers, libraries, or those submitting papers," says Dr. Barohn in his inaugural editorial.
In traditional publishing models, researchers surrender their copyright to commercial publishers in order to disseminate their research findings in scholarly journals. Publishers then sell or rent that same content back to the institution through journal subscriptions—at ever increasing prices. An open access journal like RRNMF Neuromuscular Journal keeps research free and open.
Not only was it important to Dr. Barohn that authors retain their copyright, but that young researchers had the opportunity to publish without being taken advantage of by predatory journals. Dr. Barohn stated in his editor's letter that he "did not want this to be a predatory open access journal that charged excessive fees to publish and preyed on susceptible young investigators who were under pressure to publish at any cost."
Two University of Missouri medical students also serve as managing editors of RRNMF Neuromuscular: Jihane Oufattole and Breanna Tuheli. Dr. Barohn's mission is to provide more opportunities for young researchers, specifically women and those from diverse backgrounds, to gain job skills as editors.
Thank you Dr. Barohn for your work in the realm of open access. You've shown us what can be accomplished when researchers and libraries work together to make publishing fair and sustainable. If you are interested in learning how to keep your research open, visit our Open Access Guide.