The University Libraries Student Advisory Council will be meeting Tuesday, October 4th @ 5pm in Ellis Library meeting room 114A.
This meeting is being held to discuss the recent student demand for increased library hours and funding. Due to the impact of this major issue and the nascent nature of this council, executive or senior leaders of your organizations are encouraged to attend in addition to appointed ULSAC representatives.
Plans for the ULSAC governance document, chair elections, and regular meeting schedule will also be discussed. If you cannot attend, assign a proxy so that your organization's needs are represented and information from the meeting can be communicated back to your organization.
Questions? Contact user engagement librarian Grace Atkins at atkinsge@missouri.edu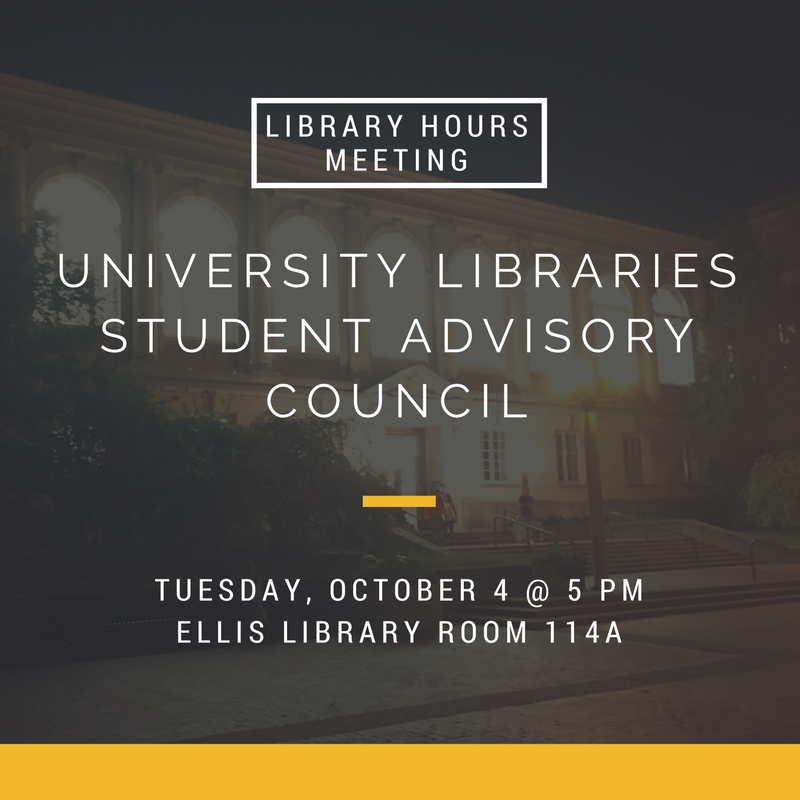 FourFront
Graduate Professional Council (GPC)
lnterfraternity Council (lFC)
Library Ambassadors (LA)
Legion of Black Collegians (LBC)
Missouri lnternational Student Council (MISC)
Missouri Student Association (MSA)
National Pan-Hellenic Council (NPHC)
Panhellenic Association (PHA)
Residence Hall Association (RHA)