According to an article published in the Weekly World News, the temperature of hell is precisely 285 degrees Fahrenheit. When temperatures soar, it is good to be reminded that there are hotter places than Columbia, Missouri. Many whose works are represented in our collections have depicted hell to provide an avenue for encouraging better behavior, or, more recently, for providing entertainment. Perusing their works also provides an avenue for indulging schadenfreude. This week we bring together works from our collection of diverse periods and genres that share a fascination with hell.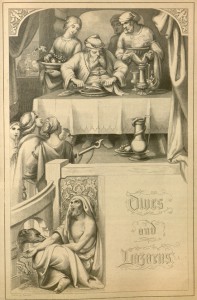 The parable of Dives and Lazarus will be well known to many. To summarize, in life, the rich man (Dives) ignores the plight of Lazarus, a leprous beggar outside his gates. After death, however, the circumstances of the two men are reversed: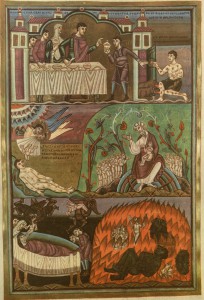 "The poor man died and was carried by the angels to Abraham's bosom. The rich man also died and was buried; and in Hades, being in torment, he lifted up his eyes, and saw Abraham far off and Lazarus in his bosom. And he called out, `Father Abraham, have mercy upon me, and send Lazarus to dip the end of his finger in water and cool my tongue; for I am in anguish in this flame."
Larazus, though willing, is not permitted, and the rich man is left to suffer his torments without relief.
The image above on the right comes from a copiously illustrated late nineteenth-century Bible from our Rare Books Collection. The image above left is of a miniature illustrating Luke 19-31. It comes from Das goldene evangelienbuch Heinrichs III, a facsimile of the Golden Gospels of Henry III. This facsimile was made in Germany in the 1933. Henry III (1017-1056) was a scion of the Ottonian dynasty, and, like his predecessors, was known for commissioning books with sumptuous decoration. In the detail below, you can see the fate of the rich man's soul as it is pulled from his body (far left), carried to Hades by a devil (middle), and as it stands and utters its request to Lazarus in the company of other tortured souls and of Satan.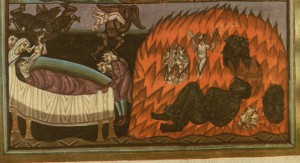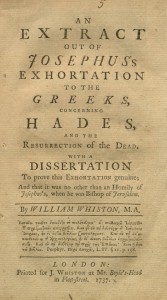 Our collection houses a number of sermons that were designed to remind their hearers of the end that had been prepared for them. In the early third century Saint Hippolytus (170-235 CE) in which he described Hades thus:
"In this region there is a certain place set apart, as a lake of unquenchable fire. Whereinto we suppose no one hath hitherto been cast; but it is prepared for a day afore determined by God: in which one righteous sentence shall deservedly be passed upon all men."
On the left is the title page of the 1737 edition of the sermon edited by William Whitson. Whitson followed tradition in attributing this work to first-century Jewish historian Jospehus, though scholars now attribute it to St. Hippolytus.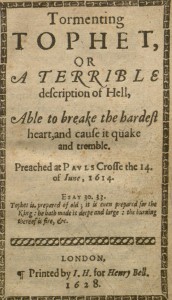 Henry Greenwood preached a sermon on the grounds of St. Paul's cathedral on June 14, 1614. The sermon was titled Tormenting Tophet, or, a Terrible Description of Hell, Able to Breake the Hardest Heart, and Cause it Quake and Tremble and published in 1628. Greenwood uses the sermon to think through the nature of hell. In particular, he relentlessly questions the nature of hell-fire, whether it is allegorical or substantial (substantial, he avers); if substantial, then of what material (of a special sort that does not require wood); and whether this material is corporal or spiritual. "What is most probable," he concludes, is " that it is, and shall be, a corporal fire, with an extraordinary afflicting power given unto it, tormenting both soul and body….[T]his fire shall outwardly burn thy flesh, and a worm shall inwardly gnaw your conscience."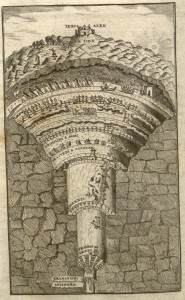 The topography of hell will be familiar to readers of Dante's Inferno. The engraving on the left comes from a three-volume Italian edition illustrated by Luigi Portirelli and published in 1804. Also among the many editions we have of this work is an early sixteenth-century edition that contains woodcuts by several artists. On each page, the copious commentary of Christoforo Landino overwhelms Dante's text. The image on the right contains text and commentary for the end of Canto XXXIII and the beginning of Canto XXXIV. "Look straight ahead and see if you can make him out," begins Hollander's translation of this last canto of Dante's journey.
Last but not least, our extensive Comics Collection weighs in on the nature of hell. Gary Panter's Jimbo's Inferno, published in 2006, superimposes the landscape of the Inferno onto a contemporary shopping mall. The result is, according to the subtitle, "A Ridiculous Mis-recounting of Dante Alighieri's Immortal Inferno in which Jimbo, Led by Valise, in Pursuit of the Soulpinx, enters Focky Bocky, Vast Gloomrock Mallscape."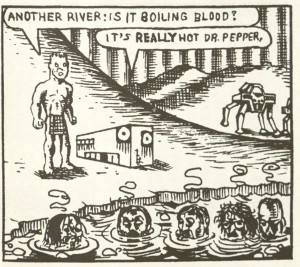 If Jimbo's Inferno brings hell up to date with some of the more banal features of contemporary American culture, Lucifer (for mature audiences only), reinvents hell as a steamy piano bar in Los Angeles. Lucifer was created by Mike Carey, Peter Gross and Ryan Kelly and published in 2001.