Dick, Jane, Sally and Spot: icons in 20th century American education.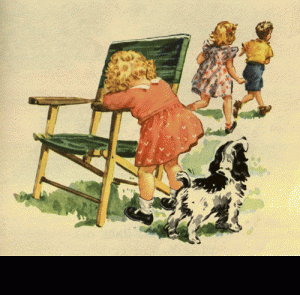 The New We Work and Play by William S. Gray, A. Sterl Artley, and May Hill Arbuthnot. Published 1951.
The Dick and Jane Reader Series was an extremely popular Reader collection used in American classrooms from the 1930's-1970's. Peaking in popularity in the 1950's, it is estimated that almost 80% of Readers used in 1st grade classrooms were from the Dick and Jane series. These Readers focused on whole language and repetition to teach children how to read. University of Missouri-Columbia professor, Dr. A. Sterl Artley, played an important part in the production and study of these books. Dr. Artley won the Thomas Jefferson Award and was a Reading Hall of Fame winner for his work on the series.