Remember Mr. Collins in Pride and Prejudice? He's the creepy, pompous cousin of Mr. Bennett – the one who was intended to marry Lizzie, but ended up with Charlotte Lucas, Lizzie's best friend. During his first visit to the Bennett family, Mr. Collins proves to be such a bore in conversation that he's asked to read out loud instead:
Mr. Collins readily assented, and a book was produced; but, on beholding it (for everything announced it to be from a circulating library), he started back, and begging pardon, protested that he never read novels. Kitty stared at him, and Lydia exclaimed. Other books were produced, and after some deliberation he chose Fordyce's Sermons. Lydia gaped as he opened the volume, and before he had, with very monotonous solemnity, read three pages, she interrupted him with:
"Do you know, mamma, that my uncle Phillips talks of turning away Richard; and if he does, Colonel Forster will hire him. My aunt told me so herself on Saturday. I shall walk to Meryton to-morrow to hear more about it, and to ask when Mr. Denny comes back from town."
Lydia was bid by her two eldest sisters to hold her tongue; but Mr. Collins, much offended, laid aside his book, and said:
"I have often observed how little young ladies are interested by books of a serious stamp, though written solely for their benefit. It amazes me, I confess; for, certainly, there can be nothing so advantageous to them as instruction. But I will no longer importune my young cousin."
Books on proper conduct were popular in the late eighteenth and early nineteenth century, and James Fordyce's Sermons to Young Women was one of the most widely read and circulated. It became a staple in household and school libraries and went through multiple editions in a short period. One has to wonder, however, whether the young women who were subjected to its wisdom liked it as much as their parents, teachers, and clergymen did. Scholars have pointed out that Jane Austen uses the events above to comment on the place of the novel in society, but also to frame her female characters in relation to the submissive, modest, and pious behavior Fordyce prescribes.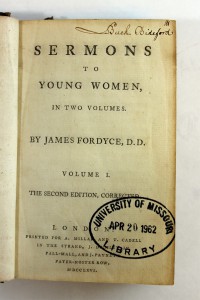 We have one copy of Fordyce's Sermons in Special Collections. It's a second edition in two volumes, printed in 1766 in London. It's interesting to read, especially as an insight into the world of Jane Austen. But what's most interesting about it, to me at least, is that at some point in its early history, it was owned by a man named L. Buck, LL.D., who seemed to have appreciated Fordyce just as much as Mr. Collins did. Here's what he wrote on the front free endpaper:
This Book ought to be read again and again by every young Lady in the Kingdom. I do not know any Praise too great, that can be given to the Author of it. L. B.
Mr. Buck went on to take notes throughout the first and second volumes, underlining sentences and making short, summarizing comments in the margins. I've collected a gallery of some representative examples below.
From Alumni Oxoniensis I was able to find out that our Mr. Buck was probably Reverend Lewis Buck of Bideford, Devon. He enrolled in Exeter College at Oxford in May 1753 at the age of 19, received a bachelor's degree in law in 1765 and a D.C.L. in 1771, and died in April 1783.
To Mr. Buck's credit, it's pretty unfair of me to call him a real-life Mr. Collins. After all, we know very little about him, except for his regard for Fordyce and the fact that he was a clergyman. His interest in these sermons mirrored the attitudes and values of the society around him. Still, it's tempting to look for the reasons he read this book so closely. Was he a father of daughters looking for parenting advice? Was he involved in the education of women? Or perhaps he was looking for ways to counsel young women in his parish? Whatever his purposes, Fordyce's Sermons was a text he studied fully and, evidently, enjoyed.