With the whole campus community excitedly gearing up for the 108th Homecoming, Ellis Library's Government Documents department decided to bring their own unique spin to the preparations. Certainly, with such with a long and glorious tradition, the University of Missouri's Homecoming celebrations can be found in Federal Government publications, we thought, Let's find out!
With the help of the Government Publishing Office's terrific database govinfo, we found three Congressional Record entries that mention Mizzou's Homecoming.
The first dates from October 18, 2000, when Senator Kit Bond addressed the Senate to acknowledge the recent death of Governor Mel Carnahan:
"I was with him on Saturday at the homecoming for the University of Missouri. We shared a common interest on that day; our football team didn't do well. But Mel Carnahan, with a ready smile and a lovely wife, was there. We enjoyed our time together as we appreciated and looked back on the tremendous accomplishments he had and the contributions he made to the State of Missouri."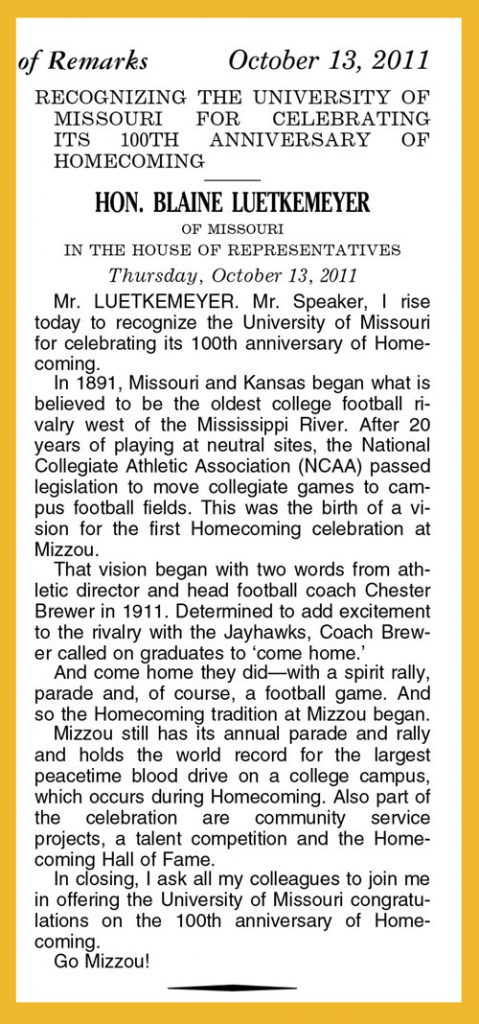 We continue on a happier note with two entries recognizing the 100th anniversary of MU's Homecoming. On October 13, 2011, Blaine Luetkemeyer rose to congratulate MU on the landmark celebration (see insert to the left). Russ Carnahan did the same the following day on October 14. "The tradition of 'homecoming' at the University of Missouri," Carnahan said, "served as a model for homecoming celebrations across the country." He continues, saying:
"Each year, thousands of students and alumni come home to celebrate one of the university's greatest traditions. Homecoming at Mizzou has gone beyond school pride and football. Through this event, Mizzou has broken the world record for the largest peacetime blood drive on a college campus, and has organized other large community service events. Moreover, the University of Missouri's homecoming celebration was recently named the best homecoming in the Nation."
It is good to be a Tiger; here's to another great Homecoming, Mizzou!