Teaching spotlight returns this semester for an interview with Megan Peiser. We've taught several classes alongside Megan and are happy to have the opportunity to present her thoughts about teaching with Special Collections.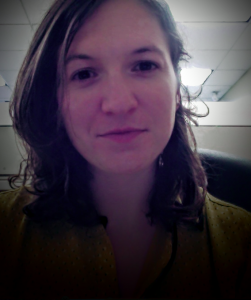 SC: Please tell us a bit about yourself and your interests.
I'm a doctoral candidate in the English department working in the fields of Eighteenth-Century British Literature, and Book History. My dissertation in progress focuses on uncovering the contemporary critical response to the only period in literary history when women published more novels than men—1790-1820. I came to University of Missouri to work on this project because our Special Collections holds hard copies and microfilm of The Critical Review and The Monthly Review, the two most prominent book review periodicals of the late eighteenth- and early nineteenth-centuries. Using rare books and special collections holdings throughout my own research journey has impressed on me how using their resources can deepen one's experience with literature.
When not leaning over a 200-year-old book, I am taking walks with my dachshund, Rory.
How do you use Special Collections in your teaching? What outcomes resulted from your class visits? What were the effects on your students?
I always include Special Collections in my teaching when I can. Literature especially favours visual and aural learners. Special Collections helps students to come into physical contact with literature in a temporal way, and often for the first time gives kinesthetic learners an opportunity to see the study of literature as something that plays to their strengths. Engaging with books as objects takes students out of their cookie-cutter anthology, and allows them to experience a text as its contemporary readers would have.
When my ENG 1210 Introduction to British Literature classes visit Special Collections they get a lesson on the history of the book. They are able to see via examples from Special Collections' holdings the evolution how mankind has received the written word, from—cuneiform tablets, to papyrus scrolls; illuminated manuscripts, to incunabula. Seeing these changes helps students to imagine a work's original form, and think about how it both changes and does not change as it passes through the various mediums that bring it to their textbook.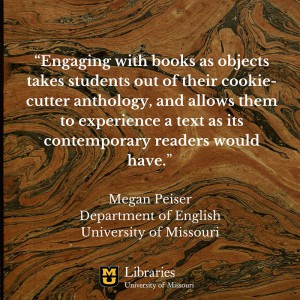 I also use special collections to get students think about how they receive information. Students in my ENG 2100 Writing About Literature class visited Special Collections to look at examples of the same literature re-packaged over several centuries. Holding our class meetings in Special Collections with example books on the table before us enables the students to engage in discussion about the ramifications of a nineteenth-century erotic poem later printed in a children's book. While referencing the book objects before them, students become critics of more than words—of narratives of history, of collections, canons, and objects.
In my ENG 2159, World Literature 1899-Present class students combed artifacts from Special Collections and the University Archive's collections to study ephemeral texts that represented historical moments from the marginalized viewpoints of those who lived through them. They asked how a poster, a pamphlet, a comic book might be literature? How it makes its meaning?
These students leave the classroom having not only read through literature's past, but having had a physical experience with it. No longer feeling alienated from literature, they are empowered by its ability to reach readers across nationalities, languages, and mediums, and their ability to trace its path and engage with it throughout its journey. When they learn to criticize literature beyond their textbooks, they are able to apply their critical reading skills to other texts in their academic and professional lives.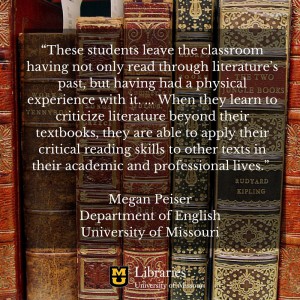 What advice would you give to faculty or instructors interested in using Special Collections in their courses?
Ask the librarians! Librarians spend much more time with the physical collections than you could ever attempt to re-create via searching the catalog. When I start thinking about my syllabus, I right away send a list of texts we're reading, a theme I have in mind, or a brainstorm for an assignment to one of our Special Collections Librarian. Then we are able to meet, pull pieces together, and further brainstorm how to collaborate for the students' best learning outcome.
Don't be afraid to experiment. My most successful assignments with Special Collections had very loose parameters. They were shots in the dark, and I told my students that! It gave them ownership over the project, and let them help me shape it into its refined version.
You can see examples of the interactive media projects my 2100 Writing About Literature students did in conjunction with Special Collections and their materials on our class website here: http://meganleapeiser.wix.com/writingaboutlit#!projects/cg5v
If you would like to nominate a faculty member or graduate student to be featured in the Teaching Spotlight, contact us.