Dr. Rebecca Mouser, a Postdoctoral Fellow in the Department of English is our guest for the Teaching Spotlight this month.
Could you tell us a bit about yourself?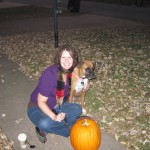 I am a postdoctoral fellow in the English department. My research focuses primarily on oral tradition in the Middle Ages; my recent dissertation explores oral tradition in the fourteenth-century alliterative romances such as Sir Gawain and the Green Knight and the Morte Arthure. Outside of my studies, I mostly spend my time with my two dogs, Isabelle (a Boxer) and Hermann (a German Shepherd).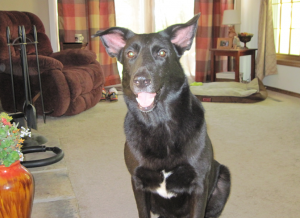 While at MU, I have taught several literature courses, including English 1210 (Introduction to British Literature), English 2100 (Writing about Literature), English 3200 (British Literature: Beginnings to 1784), and English 4210 (Medieval Literature: The Age of Chaucer).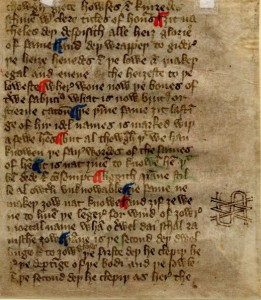 Chaucer's Boece, Fragmenta Manuscripta # 150,
In each of these courses, I stress the material culture of the various time periods as well as the historical and literary culture. We often discuss oral tradition and the development of literary texts. My hope is that students can see that the text goes beyond the page, and that the artifacts that survive can help us to interpret that larger text.
What materials or collections did your students work with?
My students usually view and work with a variety of manuscripts from the twelfth through fifteenth centuries. We discuss the development of various writing materials such as parchment as well as the various inks used. The manuscripts are both individual leaves of parchment and codices. I tend to bring my students to view the material culture of the Middle Ages (pre-16th century).
What outcomes resulted from you class visits? What were the effects on your students?
During my last visit to Special Collections, my students composed essays about the experience. Many of them stated that seeing the actual manuscripts helped them to conceptualize the Middle Ages as an actual place in time rather than an abstract idea of pastness. They really enjoyed learning about various ingredients used for ink as well. One student in particular chose a final writing project where she could work with digital manuscript images in her exploration of the idea of "fate" in Chaucer's works. Overall, most of my students are excited about the experience and express the desire to return at some point on their own.
What advice would you give to colleagues interested in using Special Collections in their courses?
I think that the most important advice I would have is to take students to Special Collections, even if you are not yet sure of what you hope they will discover. The librarians are extremely helpful in setting up the session, providing ideas for what materials to view as well as brainstorming assignments. I always provide my syllabus before the session to help them to cater to my class.