A selection of decorated papers from Ellis Library Special collections is now on display now in Ellis 401.Decorated paper must be one of the most visually striking elements of rare books. They are found as endpapers, pastedowns, and on the covers of books produced in Europe from the 17th century onward. With a little background you can begin to appreciate their textures and patterns, and to identify the papers found in our collection and beyond.
Of the many kinds of decorated papers, marbled papers are the best represented in our collections. The art of marbling paper was invented in Japan and spread to Europe by the early 17th century. Though no two sheets are alike, certain designs became traditional. These designs are sometimes named after a formal resemblance, such as the "peacock," sometimes after the country of origin, as the "Turkish" pattern, or both, such as the "French curl."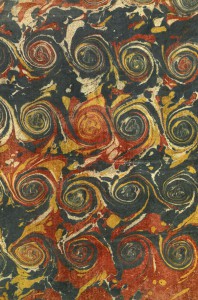 Histoire naturelle : générale et particulière
Volume 12
by Georges-Louis Leclerc, Comte de Buffon
published in 1749 in Paris by l'Imprimerie royal
Rare QH45 .B78

Traditional artisans create these designs in oil-based pigments that float on the surface of water. In a carefully orchestrated sequence, they rake and comb the pigments to rake to achieve a design whose swirls and veins resemble those observed in polished marble. The design "lifts" as paper absorbs the pigment.
Marbled papers are enjoying a resurgence in popularity. Artists such as Ann Muir create traditional as well as original designs. In a surprising twist, new technology has created a new demand for decorated papers; luxury cases for mobile devices sometimes incorporate them to create a book-like effect.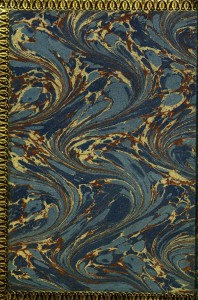 Vida de Miguel de Cervantes Saavedra
by Martín Fernández de Navarrete
published in Madrid by la Imprenta Real in 1819
Rare PQ6337 .N27

These and many other examples of decorated papers from our collections are on display now in 401 Ellis and can be viewed between 9-5.
Further Reading
Link to an article by Joel Silver with a bibliography:
https://www.finebooksmagazine.com/issue/0306/marble.phtml
Link to a guide at Washington University
https://content.lib.washington.edu/dpweb/patterns.html
Apotelesmata astrologiae Christianae, by Pedro Ciruelo.
Published in Madrid, by Arnaldi guillelmi Brocarij, 1521
RARE QB26 C5