… here are six beautiful flowers, plucked from the pages of The Flowers Personified. A favorite of the Special Collections librarians, this book was given to Mrs. Walter Burnham on December 25, 1912 because '"She" loved Flowers and loved this Book.' Why the mysterious quotation marks? We may never know.
Though beautifully bound, the real treasure lies inside this volume, with illustrations engraved on steel by J.N. Gimbrede from designs by J. J. Grandville.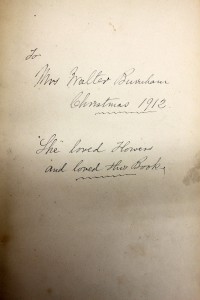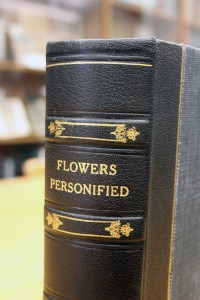 If you've been to Special Collections before, you might recognize some of the prints below – we love to show off this book, and it's been in some of our relatively recent exhibits.
In order from top to bottom are: Wild Rose, Lily, Dahlia, Forget-Me-Not, Thistle, and Grape Vine.
You don't have to worry about these flowers wilting in the heat – they're nice and cool in our stacks! Check back here tomorrow for more of the 12 Days of Christmas in July Countdown.