… we give you five illustrated ballads. Pretty Peggy and Other Ballads is a collection of five songs for children, given to Nell Merrill in 1884 by 'Aunt Baba.'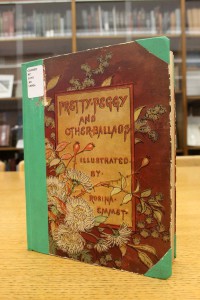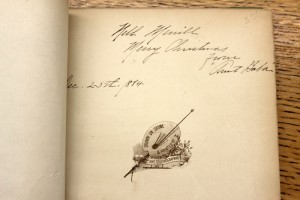 The ballads contained in this volume are Pretty Peggy; Pray Papa, pray Papa; The sailor lad; There was an old man who lived in a wood; and Robin. Each section of the book starts off with the music of the song, then a series of illustrations of the events in the song.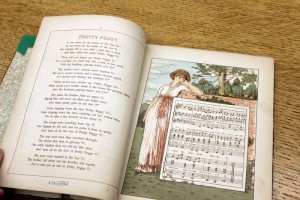 As you can see, our copy has been well loved and even drawn in by a previous owner. If you look closely in the picture below, you can see a pencil outline around the girl in the illustration.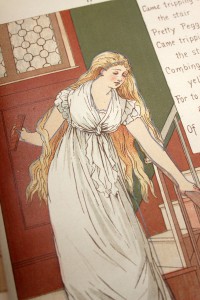 Though not good for preservation, it's interesting to get to see the evidence that a book has been loved by a previous owner, perhaps even Nell herself. What was your favorite book you ever received or given as a gift? Comment and tell us (we'd love to know) and check back here for more of our Christmas in July series tomorrow!