Marco Polo is often credited with bringing sherbet and ice recipes to Europe after having learned them on his famous voyages. These were again kept mostly by the royals and others in the higher tiers of nobility. Some of these recipes may have been known to the English royalty earlier, as there are reports of Richard the Lionhearted eating sherbets in 1191 while on a Holy Crusade.
When people realized that adding salt to snow and ice helped to increase the coldness and help keep it, clever chefs now had more freedom than ever to experiment with different flavors and mixtures. The French chef Jacques, from the court of Charles of England and Vatel, the chef of King Louis XVI have both been cited among the inventors of cream ice which, with the help of the Germans, Spanish, Italians, and possibly the Scandinavians, contributed to what became known as ice cream when these recipes came to America, where it was further influenced mostly by English and French methods.
The first written evidence of ice cream in America comes from a letter written May 17, 1744 by a guest of Governor Bladen of Maryland that describes this curious ice cream treat. In the latter half of the 18th century, ice cream's popularity really picked up with those that could afford it, including such well-known figures as George Washington and Thomas Jefferson.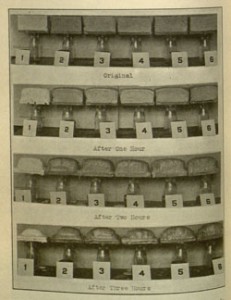 Here at Mizzou, the College of Agriculture, Food, and Natural Resources has long been a big name in ice cream research. With noted researchers Professor William Henry Eddie Reid, Wendell Arbuckle, and Robert T. Marshall all contributing at some point to the research done here on campus on things such as the freezing properties, stability, and physical qualities of chocolate ice cream and modern trends in retail ice cream stores. Reid went on to consult with Baskin Robbins while Arbuckle and Marshall literally wrote the book on ice cream (Ice Cream by Arbuckle and Marshall and The Little Ice Cream Book by Arbuckle can both be found in our stacks). With all this research going on it was eventually decided that it was high time Mizzou had its own flavor of ice cream, which it now does. Tiger Stripe Ice Cream, which looks exactly as the name suggests, remains popular today among students, faculty, and alumni alike and is served at a number of school and alumni events. (To find out more about the history and development of ice cream research at Mizzou visit the website of Mizzou's ice cream shop, Buck's Ice Cream Place, here.)
Have a happy National Ice Cream Day!
Arbuckle, W. S. The Little Ice Cream Book. [S.l.]: W.S. Arbuckle, 1981. Print.
"International Dairy Foods Association." July Is National Ice Cream Month. N.p., n.d. Web. 17 July 2013. http://www.idfa.org/news–views/media-kits/ice-cream/july-is-national-ice-cream-mon/.
Mertens, Randy. "About Us." Buck's Ice Cream Place:. N.p., 12 Mar. 2010. Web. 17 July 2013. http://bucks.missouri.edu/about/history.php.