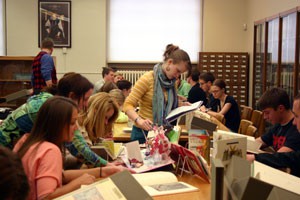 Today and yesterday, participants from across campus gathered for the annual Celebration of Teaching in recognition of faculty innovation and achievements. We're celebrating another record-breaking year for classes and groups in Special Collections, and we count ourselves lucky to work with such dedicated and creative instructors. Here's just a sampling of the classes we taught this past year:
History of Modern Engineering
Jane Austen and Her Contemporaries
Theatre Scholarship
Italian Civilization
Letterpress and Book Arts
Historiography of Medieval and Early Modern Convents
The Inhuman Subject (English honors seminar)
Information and Student Success
History of Typography
Introduction to Visual Culture
Introduction to German Literature
History of Western Dress
Beginning Latin
Color Theory
Monstrous Births: Tales of Creation in 19th Century Literature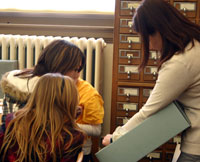 You can find out more about some of our student and faculty patrons in our Spotlight posts, and we look forward to adding even more profiles and interviews once the fall semester begins.
Wondering if Special Collections can support your next course? Contact us at SpecialCollections@missouri.edu, or check out the Resources for Instructors section on our web site.