Sometime ago, while preparing books for visitors, I opened the first issue of the magazine Love for Three Oranges, January 1914, and was surprised to see Alexander Blok's autograph on the title page. The slim, almost homemade, magazine was published by Vsevolod Meyerhold (1874 – 2 February 1940), a brilliant and provocative Russian theatre director, under the nom de guerre Doctor Dapertutto, and the playful, theatrical, and sometimes clownesque nature of the magazine didn't immediately associate in my mind with the tragic figure of Blok.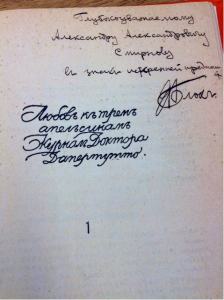 One of the most famous Russian poets, Blok (1880-1921) was born in St. Petersburg to a refined, cultivated family of Russian gentry. The son, grandson and a son-in-law of the university professors, he was, by the definition of another poet, "the pampered child of a good home, who had been caressed by "tender women", who, however, saw himself as an "orphaned outcast, and began to write most of his poems in the name of the man who was desperate, unsheltered, and buffeted by the wind" *
Poet of doom and gloom, he enjoyed the unsurpassed admiration of his contemporaries, and perhaps of one or two generations thereafter.
It is impossible to convey the bewitching music of his poetry in translation, but I'd like to give this small example:
A night, a street, a lamp, a drugstore
A meaningless and dismal light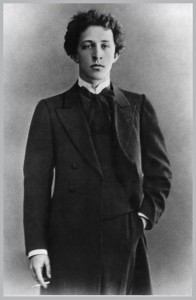 A quarter century outpours –
It's all the same. No chance to flight.
–
You'd die and rise anew, begotten.
All would repeat as ever might:
The street, the icy rippled water,
The store, the lamp, the lonely night.
Or another version of the same:
Some night and street, some chemist's lantern
Is bringing senseless weary light.
Well, nothing changes, that's one pattern,
Live extra twenty-five and find.
You die to start a life all over,
All things repeat as did before.
That night, cold waters at quay border,
That light, that street, that chemist's store. (October 10th, 1912)
Personally, I have never fallen under the spell of Blok's poetry, even in my youth, clearly preferring to him Gumilev and Khodasevich at the beginning, later Pasternak and Mandel'shtam. But I happen to know people who could cite Blok's poems by heart for a long time nonstop. Cultivated and highly intelligent women and men, they regarded him with almost divine reverence and admiration, not quite comprehensible to me. Even Nabokov wrote that Blok was "by far the greatest poet of the first two decades of this (20th) century"**
The inscription on the title page says: "to much esteemed Alexander Alexandrovich Smirnov as a token of sincere devotion. A. Blok."
The addressee of this autograph was three years Blok's junior and his complete name-sake. At 31, Alexander Smirnov (1883-1962) was a well-known and well placed philologist, specialist in Celtic, French and Spanish literatures of the Renaissance, professor at St. Petersburg University, closely acquainted with, and well established in, the circles o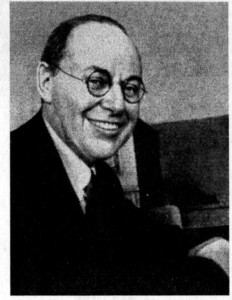 f the poets of the Russian Silver Age.
At times I think that one of the more interesting aspects of work in the Special Collections is that intoxicating thought of the many hands that had leafed through this or that old book and with whom you therefore are "in touch" throughout times and across continents. In this case, we happen to know the principal actors: Blok, Smirnov, and Meyerhold. In January 1914 they were all young, immensely gifted, looking forward to the future. The World War will begin only at the end of July***, then the atrocities of the revolution and the Bolshevik coup d'état would pounce upon them and everybody else in Russia, and their lives will be forever changed. Blok will stop writing and will drink himself to death soon thereafter; Meyerkhold will be arrested, brutally tortured by Stalin's henchmen and finally executed in 1940; and only Smirnov will be living a long and seemingly uneventful life of a respected professor and scholar, loyal to the Soviet regime. But this small book, jolly and pert, is our window onto the world of a hundred years ago, where we can be very close to the trio of colorful characters, seemingly just one touch removed.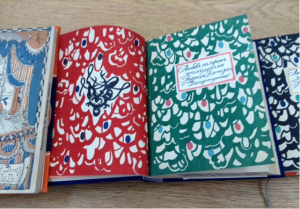 *Kornei Chukovsky, "Alexander Blok as man and poet", Ardis, 1982
**Vladimir Nabokov, Eugene Onegin, III:525, 1951-55
*** World War I started on 28 July 1914 and lasted until 11 November 1918