Louis XV may not have been the most popular king, but when he fell ill and was near death in 1744, his subjects across France prayed dutifully for his recovery. In October 1744, once he was well enough, the king visited Strasbourg, and the town threw what looks to have been a huge party to celebrate his visit and convalescence. There were processions through the streets, races, dances, and even fireworks. These events were all faithfully chronicled by J. M. Weis, "graveur de la ville de Strasbourg," and produced in the nearly monumental format of a large folio with two-page spreads. This is a fete book – a royal souvenir for a royal celebration.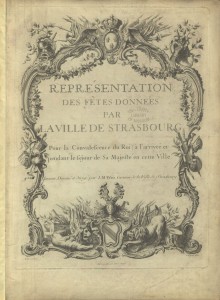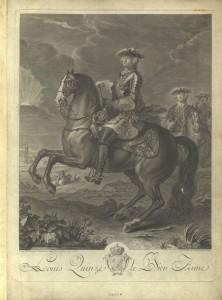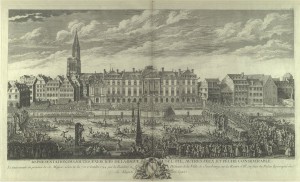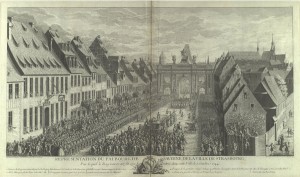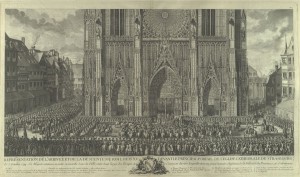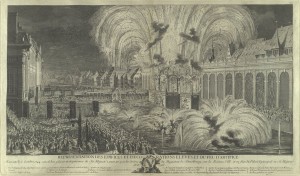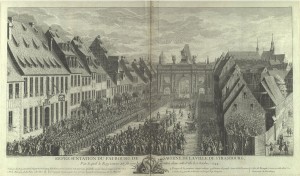 The MU Libraries copy is still in the original binding, and if you follow our Adopt a Book program, you may recognize it. William Heyde III recently donated funds to support conservation work, and Jim Downey at Legacy Bookbindery made the repairs the volume needed. Once the book was in stable condition, we were able to send it to the MU Libraries Digital Services unit. So, thanks to a generous donor, a conservator, a couple of rare book librarians, and several digital imaging and metadata experts, this book is now available to the world. We think that in itself is cause for celebration!
Get a closer look at the plates or page through the text in the University of Missouri Digital Library. Be sure to use the zoom feature to take in the details – the variety of tiny figures that populate these prints is really amazing.
Weis, Johann Martin, d. ca. 1795. Représentation des fêtes données par la ville de Strasbourg pour la convalescence du Roi; à l'arrivée et pendant le séjour de Sa Majesté en cette ville. Inventé, dessiné et dirigé par J. M. Weiss, graveur de la ville de Strasbourg. Paris: imprimë par Laurent Aubert [1745]. MERLIN catalog record