by Diana Vasquez
Comedias Sueltas USA is a website dedicated to the study of Spanish plays, primarily by means of its comprehensive database which maintains and compiles records of comedias sueltas printed before 1834 and are currently held in the collections of academic and research libraries across the United States. Referred to as chapbooks in English, sueltas emerged from printing centers of Spain mainly in the 18th century, and they continued to be produced well into the 19th century. Key characteristics of comedias sueltas include quarto format printed in double column. These singly printed three-act plays were often 32 to 64 pages in length resulting in 4 to 8 gatherings that were later stab- stitched. Many have a printed number on the upper portion of the first page by which printers kept track of the inventory. A primary place for decoration was the area around the title and the author's name. One finds arrangements of metal ornaments such as fleurons, stars, ivy leaves, and manicules, or elaborate woodcut tailpieces at the very end. Booksellers also took advantage of pages following the end of the play to advertise other titles they had for sale. Early examples of sueltas often lacked imprints and can be dated only through typographical analysis, however, over time dates appeared gradually in the colophons of sueltas.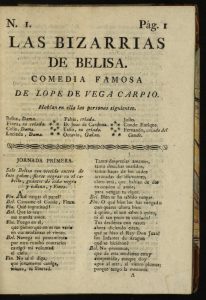 These ephemeral works have managed to survive in significant numbers, as printers and publishers maintained these titles in print for the theater-going public. The theater-going public also enjoyed amateur performances and often purchased multiple copies of sueltas for reading at home. From the colophons we see that printers operated in all the major cities in Spain (Madrid, Barcelona, Valencia, Seville, and Salamanca), as well as in some of the smaller cities, and sold some of their sueltas through booksellers all over Spain. It was an active and thriving business.
Director Szilvia Szmuk-Tanenbaum and the team at Comedias Sueltas USA hope that the Database and some of the other features of the website will serve as a valuable resource for students and scholars exploring different aspects of the Spanish theater, book history and the printing culture of the hand-press period in Spain. This comprehensive census includes records and images. As an ongoing process we will continue to enhance records with new data as it emerges. Our objective is to bring awareness and accessibility to these collections, enabling scholars to analyze trends, document change, and provide context allowing for a deeper understanding of the time periods in which they were created. To this end, in addition to accurate bibliographic records, we are including copy specific images of the first and last pages of each play from its holding institution for exact identification.
Other resources available on the website include:
An extensive Bibliography that consists of publications supporting the study of sueltas in connection with specific items or collections, comprehensive bibliographic resources covering literature that integrates material on comedias sueltas, and references to printers or booksellers of suelta editions, as well as broader insights into printing history that illuminate the practices applicable to suelta
A Glossary of terms, a recent addition still a work in progress, compiles a list of terms that scholars are likely to encounter in our bibliographic records, essays, or general literature about comedias sueltas. Additionally, the diagram of the anatomy of a comedia suelta serves for easy identification of parts and their proper name.
The Websites of Interest section assembles a list of various platforms, mostly from Spain, useful for researchers engaged in the study of Spanish history, theater, or literature.
Comedias sueltas USA has identified just over 100 academic and independent research libraries in the United States that have holdings of comedias sueltas. The size of these collections varies, with approximately one-third of the libraries holding only a few titles, several more holding 11-975 titles, and about 8 collections hold more than 1000 titles. For instance, the University of North Carolina boasts a collection of over 2200 titles and similarly, the Hispanic Society Library and Museum in New York possesses nearly an equivalent number.
At the time of this writing, the team at Comedias Sueltas USA has uploaded 69 collections of sueltas into its database and many more are getting ready to be uploaded. We very much appreciate Kelli Hansen's assistance by providing images of the first and last pages of each item in the Ellis library Spanish play collection. We feel that having the 62 titles, some of which we haven't seen before, really adds to the completion of the census.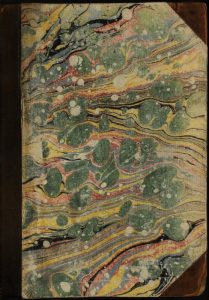 The sueltas in the Ellis library database offer good examples for teaching the history of printing ephemera. These are generally single plays, but we also find them bound as factitious volumes. The term factitious volume is used to describe some randomly bound volume (usually of 12 plays) selected by a collector, bookseller, or librarian. These bound volumes were thought to be easier to handle than the ephemeral pamphlets. The Moreto plays Confusión de un jardín and San Franco de Sena, with no imprint dates, seem to be the earliest in the collection. The most recent suelta in the collection, Sancho Ortiz de las Roelas by Cándido María Trigueros was printed in 1814. A selection of Trigueros' works are 18th-century adaptations of plays originally written by Lope de Vega. Curiously, nearly half of the Ellis collection is authored by Lope de Vega, a prominent Spanish playwright and poet of the Golden Age. By closely examining this collection students can observe first-hand the printing styles across the 17th -19th century.
Looking at these plays in chronological sequence, it is easy to observe change in typography and orthography. For example, the use of long s (a letter that looked almost like an f) transitions to a modern short s during this period. Other aspects of spelling become modernized as well. The use of a short s but with an early date in the colophon indicated a "concealed reprint" which was done to avoid paying the fee a printer should have paid for reprinting an earlier work.
Women played an important part in the world of 18th century Spanish printing. Seven of the 62 plays in the collection were produced by women printer/booksellers. Women often assumed the reins of their late husband's or male relative's business. As was the case with Viuda de Quiroga (Manuel de Losada Quiroga's widow) and Antonia Gómez (José de Orga's widow). In addition, there was Teresa de Guzmán who was a printer and bookseller in her own right in Madrid from 1733-1737.
It is important for Special Collections to bring the history of the book and older printing practices to the attention of its users. Plays that students now read in modern paperback edition or electronically did not appear that way to their first readers two or three centuries ago. It is important to have them touch the paper that was made one sheet at a time during this era of printing and even to feel the bite of the type as the raised letter was formed. Experiences such as these bring a deeper understanding to the evolution of printed materials. We hope that faculty, students, and researchers at the University of Missouri will see the value of their Spanish plays collection.
---
To access comedias sueltas or any other materials in Special Collections, schedule an appointment through the Special Collections website.