In case you missed it, April is Arab American Heritage Month! We've put together an A-Z list of music, books, poetry and more to celebrate Arab heritage in the United States. Read the second part of this series and join Mizzou Libraries in supporting Arab American voices.
– Rachel Brekhus, Melissa Fayad & Sireen Abayazid (Student worker, DMiL)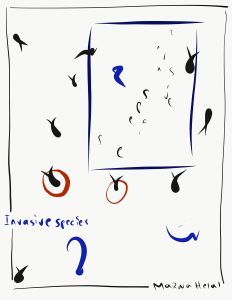 Invasive Species, Marwa Helal
In Invasive Species, Marwa Helal's searing politically charged poems touch on our collective humanity and build new pathways for empathy, etching themselves into memory. This work centers on urgent themes in our cultural landscape, creating space for unseen victims of discriminatory foreign (read: immigration) policy: migrants, refugees–the displaced. Helal transfers lived experiences of dislocation and relocation onto the reader by obscuring borders through language – Publisher's website
"Kindness" by Naomi Shihab Nye
Naomi Shihab Nye is an American poet, songwriter and novelist of Palestinian, German and Swiss descent. Nye spent her adolescent years in Jerusalem and San Antonio, TX and her experience in differing cultures has influenced much of her work. She has published or contributed to over 30 volumes of poetry, and this poem, "Kindness," is from her collection Different Ways to Pray, published in 1980.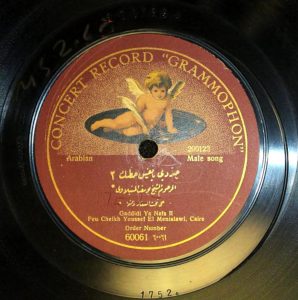 Loeb Music Library – Arabic 78 Collection
The Eda Kuhn Loeb Music Library is Harvard's home for musical materials. The library's 78rpm Arabic records collection has over 600 records from the Arab Renaissance of the early 20th century, known as Al-Nahḍa. The collection features music from famous performers and composers from the era such as Yūsuf Al-Manyalāwī and Sayyid Al- Ṣaftī from acclaimed record companies of Arab, American and European origin. The physical copies are located at the library in Boston, MA but they've been digitized for anyone to access.
Many Voices of Casey Kasem – An Animated Tribute 
Kemal Amin "Casey" Kasem was an American voice actor of Lebanese descent, best known for being the first to voice Shaggy Roberts in the Scooby Doo franchise and for voicing Dick Grayson/Robin in Super Friends. Kasem was also a disc jockey and radio personality, and was one of the founders of American Top 40, a weekly radio countdown started in 1970.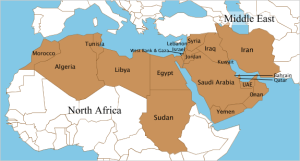 MENA, an acronym in the English language, refers to a grouping of countries situated in and around the Middle East and North Africa. It is also known as WANA, which alternatively refers to the Middle East as Western Asia. The region shares a number of cultural, economic, and environmental similarities across its comprising countries. Some terms have a wider definition than MENA, such as MENAP or Greater Middle East, which extends to South Asia to include the countries of Afghanistan and Pakistan.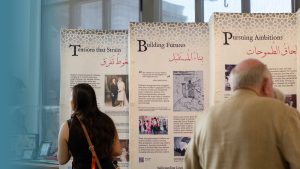 Moise A. Khayrallah Center for Lebanese Diaspora Studies at NC State
A pilot project to research and preserve Lebanese history in North Carolina was funded by Dr. Moise A. Khayrallah in 2010. The initiative started with projects like the PBS Documentary Cedars in the Pines and a touring museum exhibit of the same name. It expanded to the Moise A. Khayrallah Center for Lebanese Diaspora Studies, dedicated to researching Lebanese history in the United States and beyond.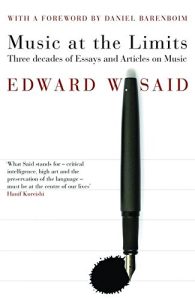 Music at the Limits, Edward W. Said
Music at the Limits is the first book to bring together three decades of Edward W. Said's essays and articles on music. Addressing the work of a variety of composers, musicians, and performers, Said carefully draws out music's social, political, and cultural contexts and, as aclassically trained pianist, provides rich and often surprising assessments of classical music and opera. – Book Jacket
"I Remember My Father's Hands" by Lisa Suhair Majaj
Lisa Suhair Majaj is a Palesitinian-American poet. Her 2009 manuscript, Geographies of Light received the Del Sol Press Annual Poetry Prize, and features the poem "I Remember My Father's Hands." This video is a visualization of the poem.
Paul Orfalea's Top 10 Rules For Success
Paul Orfalea is an American business man of Lebanese descent. He founded the copy-chain Kinko's in 1970, now known as FedEx Office after being acquired by FedEx in 2004. Now resigned from the role of CEO, he has focused his energy on philanthropy. Here are his top 10 rules for success.