Infamy: The Shocking Story of the Japanese American Internment in World War II by Richard Reeves is this year's One Read Program selection. The One Read Program is sponsored by Mizzou Law and MU Libraries in order to facilitate conversations of diversity, inclusion, and social justice throughout the MU community. This year's selection, Infamy, tells the shameful story of the United States' forced relocation of thousands of Japanese-Americans to internment camps during the Second World War.
An exhibit in the Ellis Library Colonnade features a list of internment camps throughout U.S. history and a map of their locations. In addition to general information and a timeline of events relating Japanese-American internment, photos capturing various elements of life in the camps show viewers a glimpse of this reprehensible part of our history. Examples of propaganda from the time are also highlighted. The exhibit will be on display through September 29.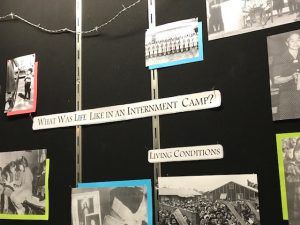 For more information on the book, events, additional resources, and information on the One Read Program, see this guide. Copies of the book are available for checkout in Ellis Library, the Journalism Library, and the Law Library.