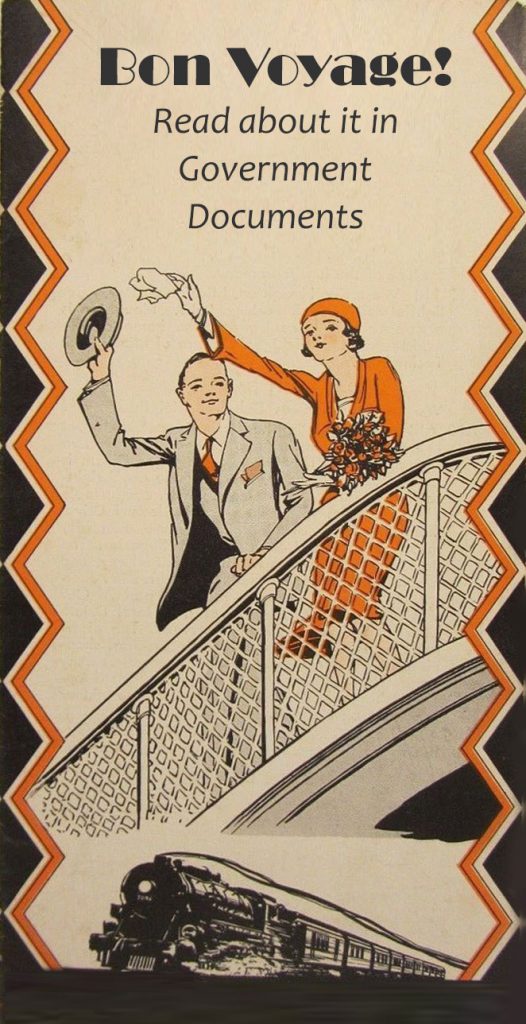 Recent news reports have drawn the nation's attention to the discomforts of air travel. People feel "like cattle" and customer service seems to have reached new lows. But a peek into MU Libraries' historical government documents collection shows that this may not be a new phenomenon. As it turns out, customer service problems once afflicted rail travel in the same way. And travelers' experience has long been a matter of interest to the federal government!
Let's look at the 1920s and 1930s. Passenger rail service had peaked in 1920, but automobiles and bus transportion were becoming increasingly preferred by the modern traveler. Railroad companies that once enjoyed a captive customer base were compelled to consider why people were choosing other options. Turns out that according to government publications, one of the issues was terrible customer service. The Federal Coordinator of Transportation's Passenger Traffic Report (1935) gives a snapshot:
"A well nigh universal criticism of rail passenger transportation is the absence of personal helpfulness…. Impersonal, discourteous, indifferent, austere or insulting treatment of passengers must be ruthlessly eradicated by intensive training, supervision and discipline."
The document goes on to reflect nostalgically on how different it had been in the old days, when passengers were treated so kindly by crews on ocean voyages:
"Although the ship's captain of fiction is a grim and hard boiled citizen, the most pleasant memories which ocean travelers retain are those of the courteous hospitality of the captain and his officers."
Air travel was still quite new in the 1930s, but some had already experienced its pleasures. According to survey results cited in the government report, "Many passenger ballots contained comments on the excellence of airline personnel, and their courteous treatment of passengers. No ballot contained a criticism."
So there you have it. Traveling is always stressful, and passengers will choose another mode of transportation when things get too bad (if they can).
If you are interested to learn more about passengers' experiences in American history, don't forget to check the Government Information department at Ellis Library! You don't have to journey far to find us, we are on the 1st floor, east side.
Happy Travels!