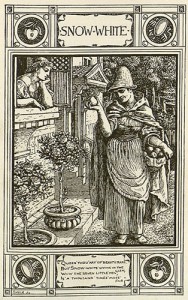 Snow White's been busy lately. This year alone she's starring in two movies while also appearing in a television series.
First published by Jacob and Wilhem Grimm as part of their Children's and Household Tales (Kinder-und Hausmӓrchen), the brief story introduces all the familiar faces: Snow White, her evil stepmother, the huntsman, and the dwarves. The elements and characters have been adapted in many ways over the years, from films and books to ballets and opera. Many of the narratives stick close to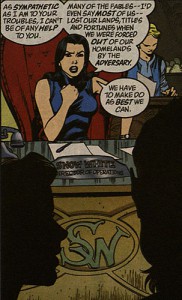 that original tale, while others take a bit of creative license.
In Special Collections we see Snow White in very recognizable tales. A copy of Grimm's Household Stories from 1896 and Grimm's Fairy Tales from 1962 both contain the story as recorded by the Grimm brothers. The illustrations present a young girl with dark hair.
The comic series Fables catches up with Snow White in the present. The action takes place well after the adventures found in the Grimm's tale, with Snow White serving as deputy mayor for a community of relocated fairy tale characters. She is joined by other familiar faces, including Cinderella and the wolf who appears in many tales.
Click on any of the images below to see a few illustrations from some of the many works featuring these characters in our collection. You'll find both the well known versions of their stories and some with creative twists.