If the silent, studying masses in Ellis Library are any indication, MU students are working diligently to improve their memories for final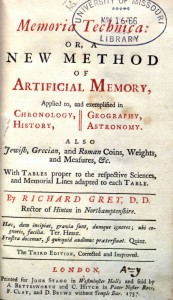 exams. Of course, Special Collections is always ready to help. This week, we're sharing a 280-year-old secret from the Rare Book Collection on the art of making things easier to remember.
Dr. Richard Grey (1696-1771) was a clergyman in the Church of England and had imaginative theories on education. In 1730, he published the first edition of his Memoria Technica, or, a New Method of Artificial Memory, a treatise on mnemonics partially based on Quintilian's De oratore. Special Collections has the third edition, "corrected and improved," published in 1737.
Grey's artificial memory system is based on a table that equates letters with numbers. Best to let him explain himself:
The first Thing to be done is to learn exactly the following Series of Vowels and Consonants which are to represent the numerical Figures so as to be able at Pleasure to form a Technical Word which shall stand for any Number or to resolve a Word already form'd into the Number which it stands for.

a

1

b

e

2

d

i

3

t

o

4

f

u

5

l

au

6

s

oi

7

p

ei

8

k

ou

9

n

y

0

z
In other words, once the learner had committed this table to memory, all he would have to do to remember, for instance, a date and a name, would be to replace the end of the name with the series of letters that corresponds to the date. Grey offers up a series of historical eras to illustrate how the system works:
| | |
| --- | --- |
| | A.D. |
| The Dioclesian Æra, or the Æra of martyrs [Diocleseko] | 284 |
| The Æra of the Hegira, or Flight of Mahomet [Mahomaudd] | 622 |
| The Æra of Yezdegird, or the Persian Æra [Yezsid] | 632 |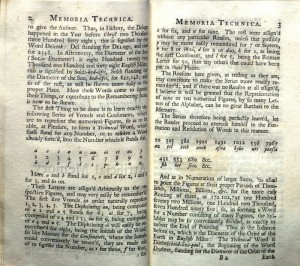 The words in brackets are the mnemonic devices, with the code at the end that represents the year in letters. If a student were called upon in an exam to produce an entire chronology of world events (as students often were in the eighteenth century), he could simply remember what Grey calls the "Memorial Line": Diocleseko Mahomaudd Yezsid. Grey points out that the system is also adaptable to geography, astronomy, weights and measures, and the study of ancient coins.
Although Grey's mnemonic devices may seem overly complicated to twenty-first-century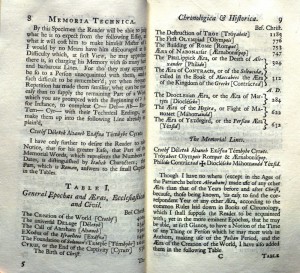 readers, his work was hugely popular in the eighteenth and nineteenth centuries. Memoria Technica remained in print for over 130 years, and was in fact the only pre-1800 book on memory to remain in use for so long.
Learn More

Richard Grey, Memoria technica, or, A new method of artificial memory : applied to, and exemplified in chronology, history, geography, astronomy … London : Printed for John Stagg … and sold by A. Bettesworth and C. Hitch … F. Clay, and D. Brown …, 1737. The third edition, corrected and improved.
MU Special Collections Rare BF383 .G8 1737
Richard Sharp, 'Grey, Richard (1696–1771)', Oxford Dictionary of National Biography, Oxford University Press, 2004 [http://www.oxforddnb.com/view/article/11558, accessed 12 Dec 2011]