150 years ago today, on July 9, 1762, Catherine the Great began her thirty-four year reign over Russia. Following the assassination of her husband, Peter III, Catherine assumed the throne and presided over what became known as both the Golden Age of the Russian Empire and the age of the Russian Enlightenment.
Catherine was born in Stettin, Prussia (now Poland) on May 2, 1729. Her name at birth was Sophie Friederike Auguste von Anhalt-Zerbst-Dornburg. When she married Peter III, she converted to the Russian Orthodox faith and changed her name to Ekaterina, the Russian equivalent of Catherine. She gave birth to four children and all were most likely illegitimate, although Peter III claimed the firstborn son, Paul, as his heir. Most likely, Paul was actually the son of one of Catherine's lovers, Sergei Saltykov. Catherine never remarried, but instead maintained a string of lovers up until her death at the age of sixty-seven.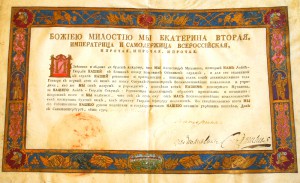 Special Collections at Ellis Library possesses a charter signed by Catherine the Great's hand that promotes Aleksandr Mukhanov, a young Russian nobleman, from regimental baggage-train driver to Lieutenant-Captain (Secund-Rotmistr) in the Horse-Mounted Guards. The charter was produced in 1790 and is extremely ornate. If you would like to stop by and see the charter in person, we would be happy to bring it out for you during our normal operating hours.