Many of the books in our collections were written in by previous owners, whether it was a student in the 1890s making notes in their textbook, or a grateful author from 1954 inscribing a thank you to someone that had provided them with some of their research. To countdown the twelve days until July 25th, each day on our blog we will feature a book from our collection that was inscribed with a Christmas message.
On the first day of Christmas in July, we give to you… one Post-Mortem Finding.
Inscribed by the author of the introduction, J. Christian Bay, "With best Christmas wishes" to an unknown recipient.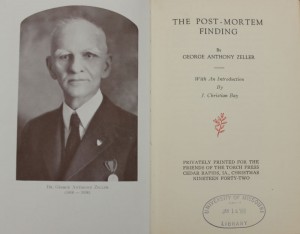 Published on Christmas in 1942, this slim volume was written by psychiatrist/ administrator George Anthony Zeller of the Peoria State Hospital in Illinois. It contains the story of one of the patients known to the doctor, as well as the events leading up to and following his death.
Little details like the portrait of the author at the beginning, the inscription, and the pretty details of the first letters of the introduction and body of the story (pictured below) make this an interesting item, despite the oddity of such a title as a Christmas gift.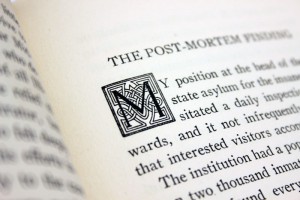 Stay tuned for Day 2 of the 12 Days of Christmas in July!